If you don't have the money, contract or effort to upgrade to an iPhone 5 this week, it's time for your annual consolation prize.
Apple is about to release iOS 6, the latest free upgrade of its mobile operating system for iPad, iPhone and the iPod Touch.
Apple says it boasts about 200 new features. Many of those will be minor, but some will change the way your phone works, and maybe even your life. (We can dream, can't we?)
Among the new features are a totally redesigned Maps app, a revamped Mail experience and deep Facebook integration.
So if you really don't want to order the new iPhone (and by all accounts it's awesome) here are the six top reasons to upgrade your OS anyway, once it hits the UK at about 6PM BST.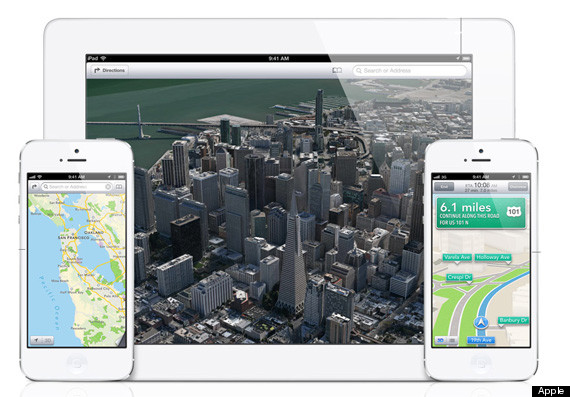 1) Maps: 3D, Navigation and Missing Road Names?
Maps have been totally redesigned in iOS 6 - and largely for the better.
Apple has switched from having Google provide its maps and navigation data, and instead has built its own solution. Among the upgrades are new 3D flyovers - meaning that in a limited number of cities (including London) you can view the entire landscape in beautiful, high-quality 3D. It's very responsive and impressive - though with the high data cost and relatively slow loading time, you'll use it to show off to your friends more than actually helping you go anywhere.
More useful is the addition of free turn-by-turn GPS navigation, which turns your phone into a Tom Tom (literally - TomTom is providing the guts of the turn-by-turn mode). and an improved traffic alerts service, which helps calculate your journey time more accurately.
Unfortunately the upgrade comes with a trade-off. Side-by-side comparisons of iOS Maps and Google's version shows occasional lapses - missing road names, mistakes and a lack of visual polish unusual for Apple. Luckily Google will be releasing its own Maps app through the iOS store, but if you're addicted to Street View (missing from Apple's version) or the Google Maps experience as a whole, you might want to hold off from upgrading until they do.
2) Siri: What's The Score?
Siri has received a few upgrades in iOS 6 - the most obvious being that it's now coming to the iPad and iPod Touch. It will also be able to launch Apps for you - tell it to "launch NFL Game Pass" and you'll be watching touchdowns immediately - and tell you sports scores, including those from the English Premier League. Otherwise it's a minor upgrade, but a no-brainer if you haven't had it on your device before.
3) Facebook: Greater Integration
Facebook is now full integrated into iOS 6 in exactly the same way as Twitter was in iOS 5. You can share photos directly to the service without launching a Facebook App, and your friend's profile information is also integrated into your contacts, including their birthdays and email addresses.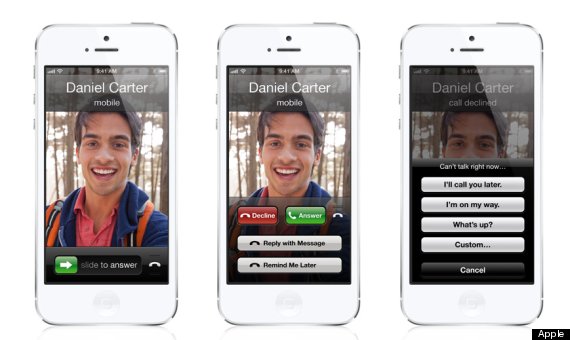 4) Phone Updates: Call Me Later
For anti-social iPhone users, the new iOS has some pretty awesome new features. Not only can you answer and decline a call as usual, you can also press a button to reply with a message (pre-defined or custom) or just remind yourself to call them back later. It's a handy way to deal with floods of calls if, for instance, you're a tech writer and a bunch of iPhone 5 case manufacturers just found your mobile phone number
5) Safari: Browsing For New Stuff
iOS 6 brings some useful upgrades to Safari, including keeping track of which sites you have open on your iPad, iPhone or Mac via iCloud and syncing them - if you want to - so that you can keep browsing from where you left off, on any device.
It also saves complete web pages to its Reading List feature, not just links, meaning you can catch up with articles on the tube. It also has a new full-screen mode, useful for when you want to distractions. Finally, Safari will now allow you to upload images right from the browser, which is great if you're using a blogging platform or email provider directly via Safari.
6) Camera Upgrades: Panorama Mode:
This was demonstrated as a new feature for the iPhone 5, but will be available for many devices in iOS 6. By swiping your phone vertically as you take a photo, Panorama will allow you to create - you guessed it - panoramic photos. We've tried it out and it's pretty impressive, and resulted in fewer weird 'ghosting' effects and broken seams than other similar products. It's not a massive feature but it's cool, and we think more than a few will start turning up on Facebook once iOS 6 hits the majority of users.
Those are just a few of the cool new features in iOS 6: here are a few more to get you excited.