Manchester United's Champions League meeting with Galatasaray on Wednesday night immediately invokes the 'Welcome to Hell' greetings the Istanbul club's supporters brandished when the Red Devils first visited Turkey in 1993. The fixture is also notable for David Beckham making a potent statement of intent in 1994.
Beckham had made his debut over two years previously at Brighton in a League Cup tie, but of the famed Youth Cup-winning side of 1992 was the latest to develop. Paul Scholes had already scored three times that season and played at Camp Nou and in a Manchester derby, Gary Neville had dislodged Paul Parker at right-back, Nicky Butt had exhibited raw promise on several occasions while Ryan Giggs had been a first-team regular for three years.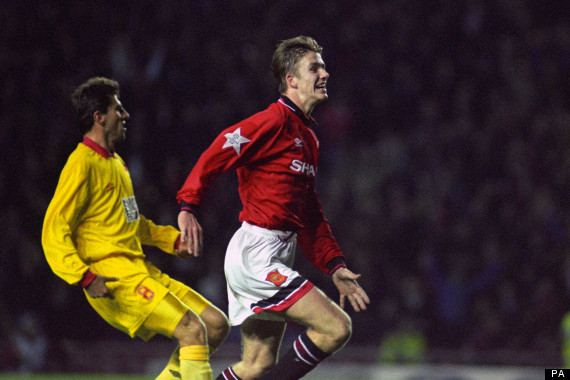 A delighted Beckham sets off to celebrate his first career goal
"I went into it not having a clue what to expect. About half an hour in, I scored my first senior goal for United," Beckham recalled of the moment in his 2003 autobiography.
"Eric Cantona was the first player to get to me. I was buzzing that much, he had to fight me off in the end. I just wouldn't let go of him. I've scored a goal and I'm celebrating with Eric Cantona."
A scruffy strike, it was the first of 85 United goals for Beckham. Ten years later, he was the most recognisable footballer on the planet and three-and-a-half-years into his tenure as England captain.