"The writing in this play is worthy of all eras," says director Frédéric Fisbach of August Strindberg's Mademoiselle Julie, a tale of gender, class and forbidden desire.
Following a french tour of the play last year, Fisbach brings his makeover of Strindberg's classic to the Barbican. A drastic revamp in set design and costume gives us clean polished worktop surfaces of a minimalist 21st century kitchen, fast-forwarding us a century from the smoky servant room equivalent of the 1888 premiere in Sweden.
Celebrated french actress Juliette Binoche (The English Patient, Chocolat) stars as Miss Julie, shimmying on stage in a garish eye-catching gold sparkling dress, rather than 19th century ball gown, hung loosely off one shoulder.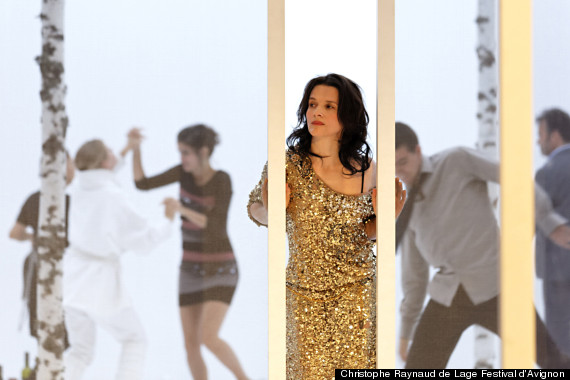 Juliette Binoche (Mademoiselle Julie)
Footman to an unseen Count, servant Jean (Nicolas Bouchaud) is bottom in the social pecking order - far beneath Julie, the Count's headstrong daughter. But the attraction of opposites proves an irresistible force for the pair on Midsummer's Eve, as tipsy flirtation turns to carnal knowledge - Miss Julie becomes a ruined aristocratic woman.
As the pair discuss their options in the early hours of the morning, Strindberg's exploration of the social quandary feels firmly rooted in the 1800s, despite Fisbach's reworking. Aside from contemporary visual changes, there is little to pin this reimagining to 2012, or bring us closer to identifying with the dilemma of our protagonist lovers.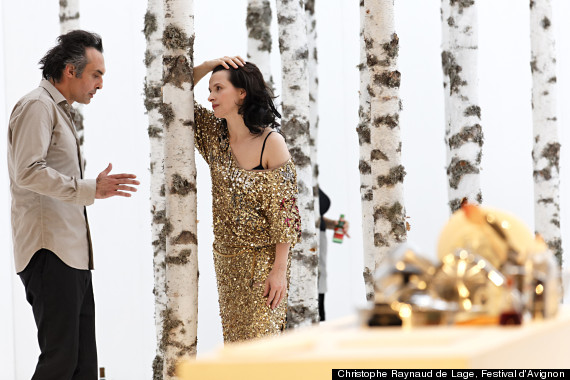 Nicolas Bouchaud (Jean) and Juliette Binoche (Mademoiselle Julie)
The ambitious stage design feels like a vision of Modern Art: fluorescent tubes streak the stage ceiling, silver birch tree trunks create an outdoor playground and up to 15 silent dancers parade drunkenly in the background in a mimed raucous party. Bare and simple, the sparse set exposes the pair to the consequences of their impulsive behaviour.
Unusual additions stick out sorely: a Donnie-Darko-esque background actor, with a large bunny head, takes a full minute to slowly pull a curtain in one scene, then dances maniacally in another.
With discussions of escape and suicide, Strindberg's game of life and death played by Binoche and Bouchaud feels less sinister than the playwright might have intended. Switching between drunken jokes and shouting matches, displays of dangerous and dark emotions only rear their head when Jean slices off the head of Julie's pet canary.
Binoche brings a careful balance of anger, brittle beauty and unworldly fragility to her role, whilst Bouchaud delivers oily arrogance. Jean's fiancé Kristin (Benedicte Cerutti), succeeds as the calm refereeing moraliser in the play.
Performed in french, with english subtitles, Mademoiselle Julie is for adventurous theatre-goers who are intrigued by a visually ambitious reworking of a classic tale of self-destruction.
Mademoiselle Julie is running at the Barbican, London, 20 Sep - 29 Sep 2012.
Take a look at all of HuffPost UK's theatre reviews:
HuffPost UK Theatre Reviews