Manchester United edged out Galatasaray for their first opening day Champions League win in three years, but the result may have been more comfortable had their erratic Portuguese winger Nani not been so frivolous when taking a second-half penalty.
There was a time when taking a penalty consisted of thwacking the ball in the hope that power would defeat the goalkeeper. However the stuttering run-up followed by a casual stroke of the ball often appears to be favoured by players these days.
When United won the penalty, Nani immediately raced over to claim the ball. Already Robin van Persie and Javier Hernández had seen feeble penalties easily saved this season, so the round-robin continued, much to United fans' chagrin.
For those Reds with long memories will have remembered a similar scenario two years ago. Two-one up away at Fulham, United were awarded a penalty in the 86th minute which prompted Nani to step up, unopposed, for the chance to double the lead and secure three points.
This was despite Ryan Giggs, who had scored two penalties the following season in a crucial match against Tottenham Hotspur, being on the pitch. Nani's poor effort was saved by David Stockdale and Fulham soon equalised through Brede Hangeland to net a 2-2 draw.
NANI MISSES AGAINST FULHAM
Nani's penalty against Galatasaray was even worse than his tame strike at Craven Cottage. He has only scored one spot-kick outside of a penalty shoot-out for United - against Southampton in the FA Cup three-and-a-half-years ago - and Sir Alex Ferguson admitted after the win he thought Van Persie should have continued to take the responsibility. Just as he condessed after the Fulham draw Giggs should have taken the kick.
However Ferguson, an increasingly reticent figure on the sidelines these days, kept hum. Contrast that to José Mourinho animatedly instructing his Chelsea players to allow Mateja Kezman to take a penalty against Newcastle United in December 2004.
The scoreline was 3-0 in the Blues' favour, but Kezman still hadn't registered his first league goal for the club since signing from PSV Eindhoven in the summer. Tasked with the challenge, he did the Panenka for a 4-0 win.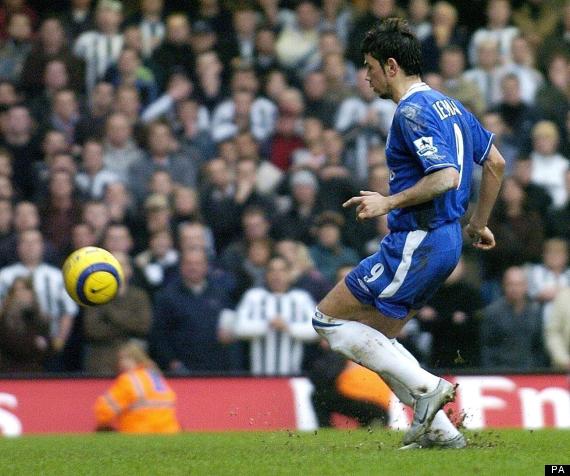 Kezman scores his first league goal
Nani is capable of displaying bottle from 12 yards out. Although Petr Čech arguably should have thwarted him, he scored in the taut 2008 Champions League final shootout. Had he missed Chelsea would have been European champions without affording John Terry the chance to claim glory when actually playing.
And the following year he struck a perfect penalty against Bayern Munich in the pre-season Audi Cup friendly.
NANI'S AUDI CUP PENALTY
But in lieu of the Iberian's woeful foul-up, here's a selection of some other awful penalties...
PETER DEVINE, LANCASTER CITY V WHITNEY BAY
Sunday League stuff...
DIMITAR BERBATOV V EVERTON, 2009 FA CUP SEMI FINAL
The Bulgarian endearing himself to Manchester United's 'Berbaphobes'...
KEVIN PRINCE-BOATENG, 2010 FA CUP FINAL
The score was 0-0 when the Ghanian had the chance to give Portsmouth, whose presence in the final was as surprising as the 0-0 scoreline at that time of the game due to Chelsea's sheer domination, a fairytale lead. But he choked before dishearteningly collapsing.
SO BAD HE WAS BOOKED
JONATHAN SORIANO, RED BULL SALZBURG V RAPID VIENNA (2012)
Soriano struck the ball so high he would have struggled to have made a conversion.
THE PICK OF THE REST...