Manchester United captain Nemanja Vidic has promised Liverpool their opponents on Sunday "will be proud" of the club when they pay tribute to the victims of the Hillsborough disaster.
In what will be the first fixture staged at Anfield since last week's report exonerated Liverpool fans of any blame for the death of 96 supporters after 23 years, the Reds will honour their memories as they continue their quest for justice.
However a minority of United fans have come under the microscope in light of a chant aired against Wigan Athletic in the 4-0 home win at the weekend thanks to certain media members.
The "Always the victim, it's never your fault" song stemmed from the Luis Suárez/Patrice Evra race row, but its timing compelled some to suggest it was made in reference to findings of the Hillsborough cover up last week.
Vidic however claimed it was unfair of some to seek to scapegoat United supporters
"I don't think we should put so much pressure on our fans," he said.
"People always try to make a big thing out of a small one but I don't have any worries.
"We have shown many times in the past and I think we will be proud of them.
"The big teams respect each other and we are going to play football."
Vidic and Liverpool skipper Steven Gerrard will release 96 red balloons on a day United manager Sir Alex Ferguson has acknowledged will be "emotional".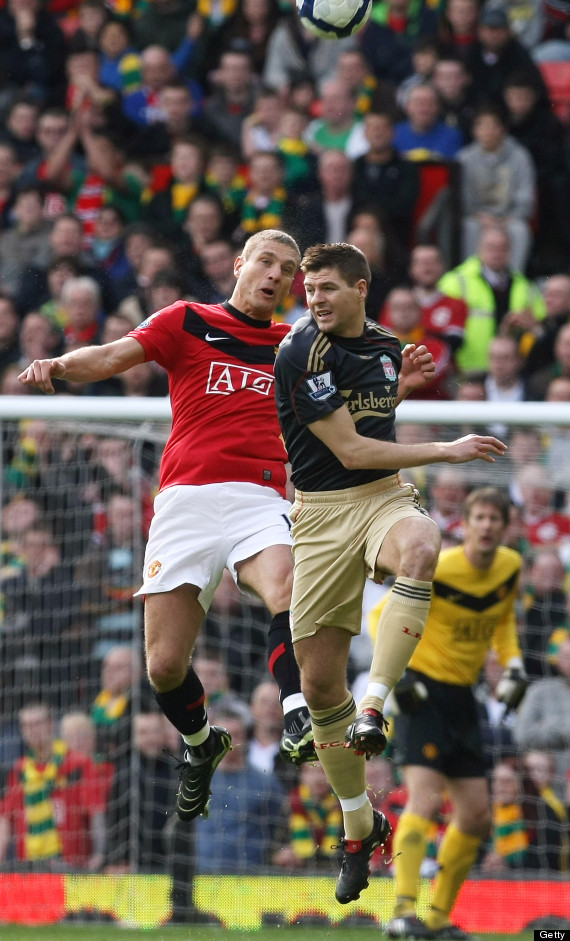 Vidic and Gerrard challenge for the ball in March 2010
The Anfield Road end, opposite to The Kop, will reveal a '96' mosaic while the Centenary Stand will unveil an equivalent reading 'Justice'.
The Hillsborough Family Support Group, Hillsborough Justice Campaign and Hope for Hillsborough – the three groups who have tirelessly campaigned to expose the truth - will be honoured guests. Notable figureheads Trevor Hicks and Margaret Aspinall were in attendance for Everton's display of city solidarity against Newcastle United on Monday night.