All Queen fans dine out how their favourite quartet completely stole Live Aid out from under the posturing of Bono and the swearing of Bob. What fewer people talk about is how that 17-minute triumph kick-started a recording and touring renaissance for a band that hadn't had to try very hard for a long time.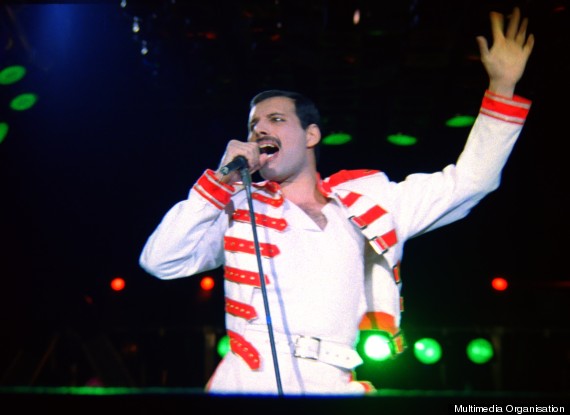 Queen's concert in Budapest, 1986, saw Freddie Mercury at the height of his powers
The 'Magic Year' that followed is documented in the introduction to this new concert film capturing Queen in fine form. It includes their return to the studio for the soundtrack of the film Highlander, interviews with all four members and their return to the road. Intimate snapshots include the kind of revelations all rock fans love - such as who contributed what to the band, and the fact that Freddie may have been the biggest show-off of all when they were on stage but, during the production process, he was the unexpected peacemaker in a room full of talent and ego.
This leads us seamlessly into the main screen event - Hungarian Rhapsody - a gig in Budapest, the first rock concert to take place behind the Iron Curtain. It was so important it was enthusiastically shot by a Hungarian team, using 17 cameras and making 25 miles of film. The result is an 80-minute performance to 80,000 fans of the era-defining glam rockers at the height of their powers
There are a few cut-aways of the four following their own pursuits by day - Roger go-karting, John having a riverside wander, Brian in a hot air balloon and Freddie buying art. But this film is really all about the gig.
They make their way from One Vision to We Are The Champions, via all the hits that secured their place in rock history - It's a Kind of Magic, Under Pressure, I Want To Break Free... they're all there.
At one point, they debut their new song from the Highlander soundtrack, with just Brian and Freddie on stage for Who Wants to Live Forever? We see Brian's intelligent face over the keyboard, and anybody wanting a lesson in virtuoso solo performance need look no further than Freddie during this.
They stay on their own for my personal favourite, Freddie's song Love of My Life - another ballad proving that, between all the rock, he really could do anything.
Radio Gaga incites its usual reaction from the Nepstadion stadium crowd, and also demonstrates how crucial each of the four main musical components is to the band's whole - amid all Freddie's high notes and Brian's crunching guitar solos, I never realised how hard Roger Taylor worked but it's evident here. And Freddie even throws in a spot of Hungarian folk song - "here comes the difficult bit" - which gets the biggest, most appreciative cheer of the night.
Finally, all file out to the strains of God Save the Queen, with Brian's distinctive strains being enjoyed a decade and a half before he does the same thing on a famous palace roof. These concert goers got their money's worth, and so will you. As Freddie says, "that's my job."
Hungarian Rhapsody: Queen In Budapest 1986 is in UK cinemas from today, with the Magic Year documentary running before the concert film. Watch the trailer below...