Nineteen people are reported to have died and at least 195 have been injured in clashes in Pakistan, according to officials, as anger over an American made anti-Islam film continues to manifest in protests across the Muslim world.
The Pakistani government had called for a "special day of love" for Muhammad ahead of Friday prayers but demonstrations in Karachi, Peshawar soon turned fierce. This follows violence in the capital Islamabad on Thursday.
Protesters had reportedly set cinemas ablaze in Peshawar where five people have died, some when police fired at the crowds to disperse them. Around ten deaths have occurred in Karachi.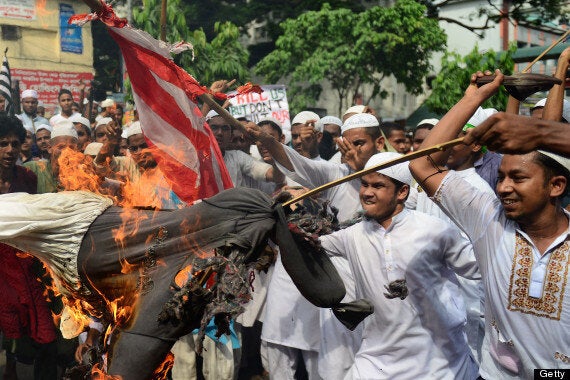 The protests have entered their second week
It is by far the bloodiest day of the protests which have been continuing for ten days.
It is feared that the death toll will rise as many people have been critically injured.
10,000 Bangladeshis took to the streets of Dhaka burning French and American flags as well as a mock-up of Barack Obama's coffin.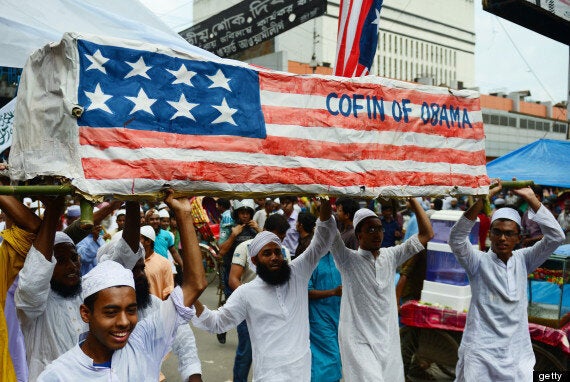 Protests in Dhaka, Bangladesh
Further demonstrations have been reported in Rawalpindi and Lahore after religious organisations called for continued protests over the 'Innocence of Muhammad' film, which sparked violent clashes throughout the Middle East and North Africa.
On Thursday evening, Pakistani TV ran adverts featuring Barack Obama and Hilary Clinton condemning the film in an effort to distance the US from the amateur production.
The adverts were broadcast in English with Urdu subtitles.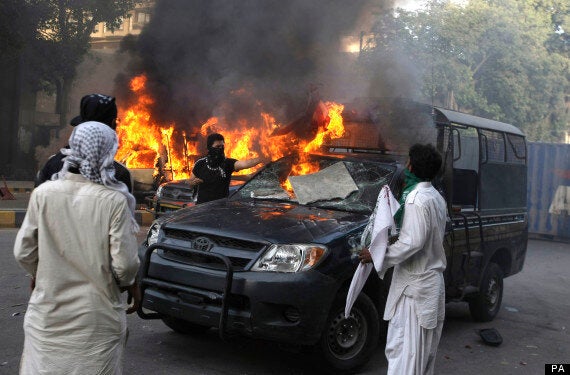 Protestors set fire to a police vehicle
The US has warned its citizens to avoid all but essential travel to Pakistan, while Richard Hoagland, the US charge d'affaires, has reportedly received an official complaint from the Pakistani government.
Cartoons of Muhammad printed in the French satirical magazine Charlie Hebdo and reprinted by several news organisations in Europe, have exacerbated ill feeling towards the west. The French government has closed 20 embassies last Friday following publication of the caricatures.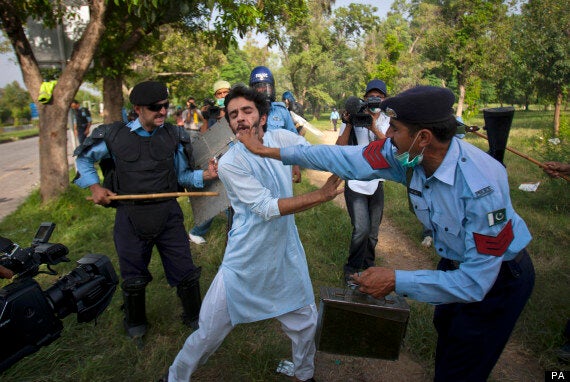 Pakistani police officers beat a protestor during clashes that erupted as protestors tried to approach the U.S. embassy
On Thursday, violence erupted in the capital Islamabad where two cinemas were attacked leading security forces have seal off areas of the city.
Militants in the Libyan town of Benghazi, where four US diplomats, including the ambassador were killed on 11 September, have called for further unrest "in defence of Muhammad" on Friday, however residents plan to hold a counter protest against violence at the same time.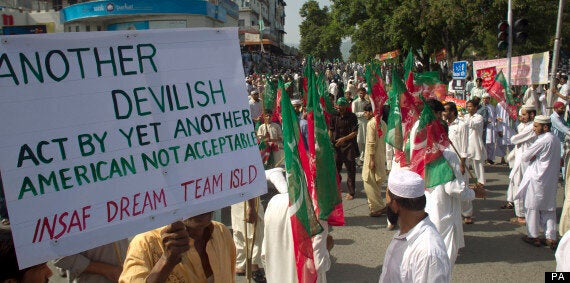 Protestors are angry at Barack Obama despite attempts by the White House to distance themselves from the film