The X Factor open auditions are over, now it's time for things to get serious... sort of.
This week it's bootcamp, when 211 acts (only 10% of which possess any discernible talent) are whittled down to just 24 acts. Yes, this is the weekend when there are lots of sad faces.
Saturday's show kicked off with a welcome party in Liverpool, featuring a performance by back-flipping boy band JLS, laid on by judges Tulisa, Gary Barlow, Nicole Scherzinger and Louis Walsh.
Gary noted there are only 72 hours to decide who to keep and told the others: "We've got to be brutal."
And brutal they were, with the Judges deciding to send a third of the acts home before they had even sung a note.
As the mass cull began, the tears began to role. The hopefuls that did make it through though were put into groups of three - boys with boys, girls with girls, "overs" with "overs" and groups with groups.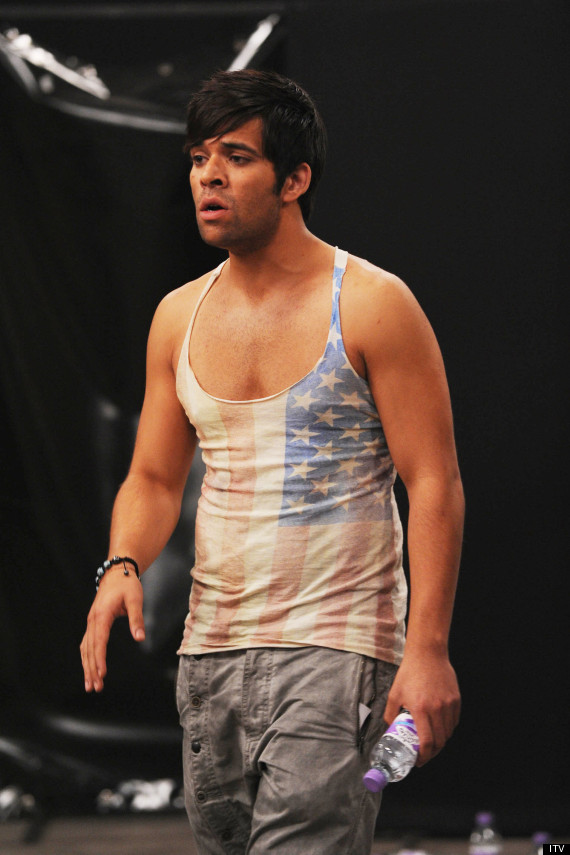 Gathan performs at bootcamp
They were told they would be competing against each other in a sing-off and had to choose a song from a list.
One group of boys, Gathan, Rylan and Ottavio, decided on Respect by Aretha Franklin, but not everyone was happy.
Ottavio said: "I think personally Gathan is trying to say he is better than me and Rylan, because he can sustain a Falsetto, but there are things that I can do, that I am pretty sure he can't do. Like I have breathy tones and I don't think he can do that."
The morning after the cull, the remaining contestants took to the stage to compete.
Tasha Lee and Maisie Berry were the first to be sent home, while Amy Mottram survived.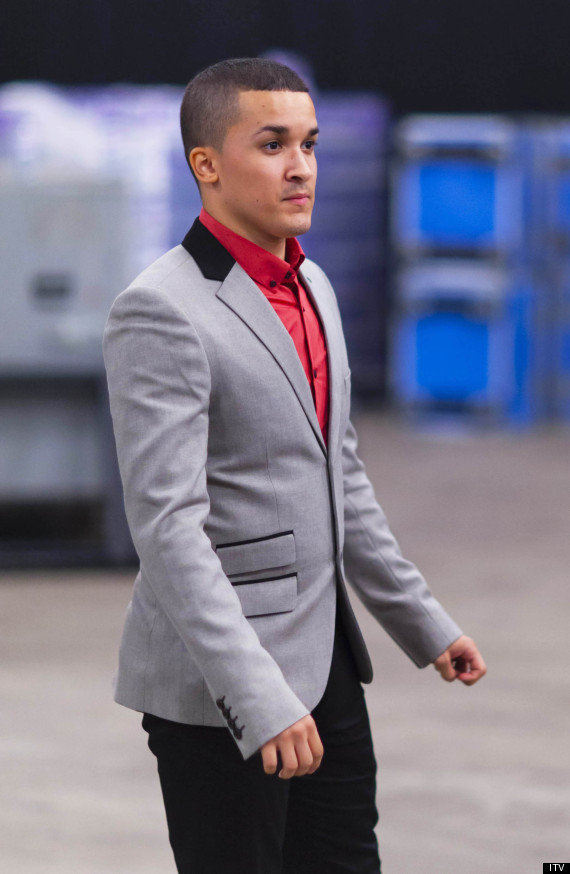 Jahmene performs again
Then it was time to catch up with Jahmene Douglas, the supermarket shelf stacker who wowed in the auditions stage with his rendition of Etta James' At Last. This time things didn't go so well...
Louis said: "Jahmene, it just didn't work, what happened? It's nothing like your first audition." However, the singer was still put through, as Tulisa said: "We want to give you another chance and we're going to see you tomorrow."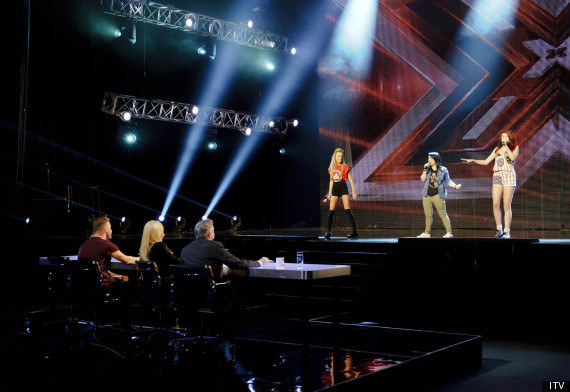 Lucy Spraggan sings at bootcamp
Star contestant Lucy Spraggan, who got two standing ovations at the auditions, returned to the stage but without her guitar she seemed to falter.
She said: "I sing and play guitar, I don't just sing, I've never been on stage without my guitar, I don't even sing karaoke because I'm so bad at singing without my guitar."
Nicole explained: "It was a little awkward at times. But you are staying at Bootcamp."
Next up was a drunken contestant. Collagen Westwood admitted: "I'm not going to lie; I've had like one or two whiskeys, which I have smuggled in."
Britt Love, who shared the stage with her, said: I'm really annoyed because she's really quite drunk and I can smell it on her, it's not fair on me and my other member. You know some people are here just to be on TV."
Luckily, it was Britt that made it through. Who says X Factor doesn't set a good example?
Last on stage were Jake Quickenden, Robbie Hance and Adam Burridge. That's homeless Robbie who reportedly went missing last week, who on Saturday's show was seen sleeping on a sofa rather than practising.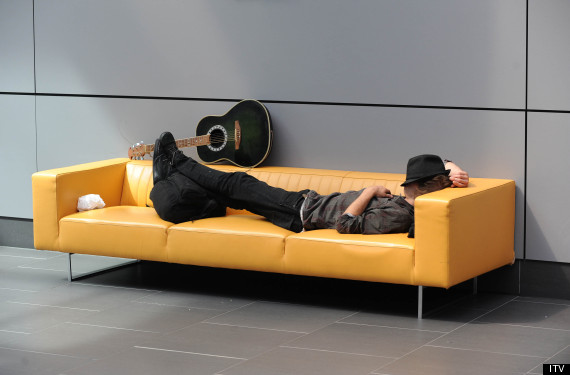 Robbie Hance takes a kip
Jake complained: "Robbie has decided to go for like a sleep, which kind of stopped us from three hours of practice."
A dejected Robbie forgot his words and walked off the stage mid-song. He explained: "I know I'm the only one here with nothing to really lose but at the same time I have just lost a whole lot more than everyone else. I suppose self-destruction was the key of today."
Other acts that made it on to Sunday's show included boy band GMD3 and Triple J, girl band From Above, Duke, Times Red, Rough Copy, Mitsotu, MK1, Carolynne Poole, LaTanza Meabon Whiteside, Christopher Maloney, Kye Sones, Melanie Masson, Curtis Golden, James Arthur, Gathan, Ottavio, Rylan, Hayley Evetts and Nicola-Marie.
On Sunday's show the remaining 70 contestants will be cut down to 24 acts, after performing in front of an audience.