John Lennon, Paul McCartney, George Harrison, Ringo Starr - The Beatles are back.
A voiceover from Tony Blackburn introduces the band to the stage at London's Prince of Wales Theatre, as they reenact their Royal Variety Performance show of 1963.
Sadly the chance of a real reunion of The Beatles is gone forever - the West End Show Let It Be has placed four performers into a spotlight of nostalgia, taking theatre-goers on a journey from the group's humble beginnings in Liverpool's Cavern Club, to their world-dominating success.
Let It Be, named after The Beatles' final studio album, is a musical love letter to the band's songs and era: over 20 of their greatest hits, including Twist and Shout, All My Lovin' and Hey Jude.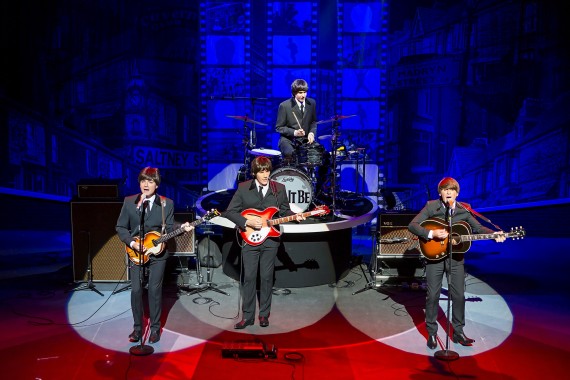 (l-r) Ian B. Garcia, John Brosnan, Phil Martin (drums), Michael Gagliano in Let It Be.
Describing itself as 'spectacular theatrical concert', it is hard to find the theatrical element to this straightforward stream of performed songs.
With success stories We Will Rock You and Mammia Mia, surely The Beatles' legacy offers rich fruit for an imaginative playwright? A 1970s stage show was more ambitious: John Paul George Ringo … & Bert, however, creative differences led to its demise, as George Harrison eventually withdrew copyright permission.
Theatre aside, Let It Be is a concert fit for the most hardcore of Beatles fans - those who are seeking the consolation thrill of an authentic tribute performance. Journeying through the ages, we see a head-bopping, suit-wearing Beatles perform Love Me Do and Please Please Me, to the psychedelic military uniforms of Sgt. Pepper and beyond.
Scenic Designer Tim McQuillen-Wright makes good use of screens either side of the stage, showing lovingly edited montages of the Beatles' era: sex, drugs, hippies and animations in the style of the Yellow Submarine film.
Despite note-perfect renditions of the band's early hits, the conservative audience at the opening show prove a tough crowd. "Sing along!" chirps Paul McCartney (Emanuele Angeletti) as he strums the first chords of Yesterday - instead he sings the entire song alone, rather fitting for Yesterday's lamentful lyrics of isolation.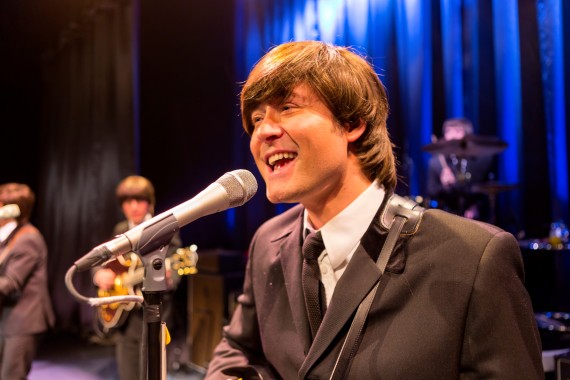 Reuven Gershon in Let It Be.
It is Stephen Hill as George Harrison who cracks the audience's frostiness with a spellbinding performance of While My Guitar Gently Weeps, giving rise to the first cheers of the night.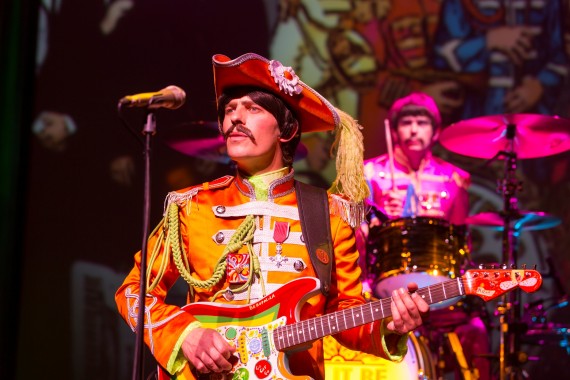 Stephen Hill in the West End production of Let It Be.
After this, the crowd participation having stepped up a level, the performers seem to embody their characters properly for the first time - all it takes is a little superstar treatment to channel The Beatles.
Be prepared for Beatlemania to make a comeback over the coming months as this year marks the 50th anniversary of the band's genesis.
If you find yourself craving a dose of the Liverpudlian lads, Let It Be may well give you your Beatles fix - however, best prescribed for die-hard fans.
Let It Be is running at the Prince of Wales Theatre, London, from Sep 2012.
See the trailer below:
Let It Be, Prince of Wales Theatre
Let It Be, Prince of Wales Theatre
Take a look at all of HuffPost UK's theatre reviews:
Let It Be, Prince of Wales Theatre