Little is known about the Queen's taste in art, but few would have bet on her being a fan of Andy Warhol.
Yet the Royal Collection have snapped up the pop artist's four famous screen prints of the monarch to commemorate the Diamond Jubilee, and will exhibit them at Windsor Castle this year.
The prints, from Warhol's Reigning Queens collection, depict Queen Elizabeth in all her formal regalia during her Silver Jubilee in 1977, rendered in Warhol's trademark bright colours. They are also layered with fine particles of glass that give the prints a sparkle in light.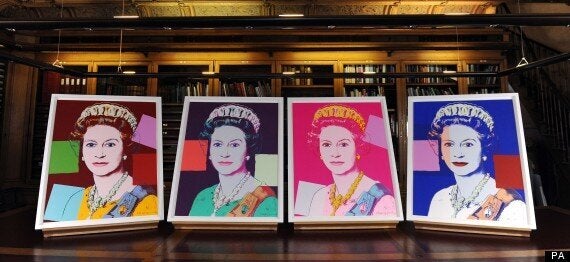 Andy Warhol's prints: now belonging to one Queen Elizabeth
At the peak of Jubilee mania early this summer, the Queen was the subject of an exhibition at the National Portrait Gallery that explored the many ways her image has been managed and manipulated over the course of her reign.
Warhol appeared in the show - as did similar works by Gilbert & George - but one might assume that the Queen herself would prefer the Royal portraits or the reverent photography of Cecil Beaton.
But then what do we really know? Perhaps the Queen has been a modern art fanatic all along.
The Queen: Portraits of a Monarch at Windsor Castle will show from 23 November until June 2013.