The Queen apparently revealed to a BBC reporter that she once asked a Home Secretary why Britain could not arrest radical cleric Abu Hamza.
BBC security correspondent Frank Gardner told Radio 4's Today programme: "This is a conversation we had a little while ago and she did say that she had mentioned to - I don't know which Home Secretary it was at the time - that was there not some law he [Abu Hamza] had broken?"
"I wouldn't say she was necessarily lobbying, that's not for me to say, but like anybody she was upset that her country and her subjects had been denigrated by this man who was using this country as a platform for his very violent, hateful views," he added.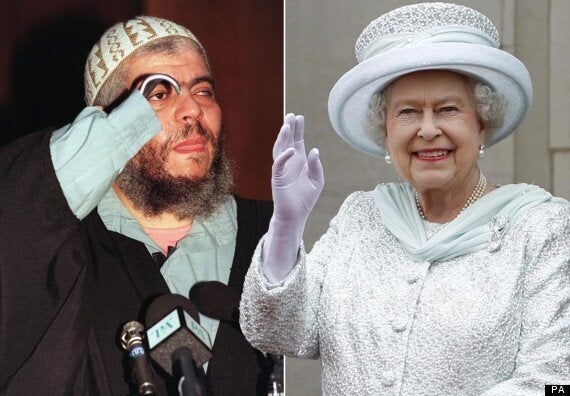 The Queen mentioned Abu Hamza's case to the Home Secretary
The decision means Hamza, who was jailed for seven years for soliciting to murder and inciting racial hatred, will now be extradited with four others, including Babar Ahmad, who has been held in a UK prison without trial for nearly nine years after being accused of raising funds for terrorism.
It is rare for the Queen to comment on public matters - according to convention the monarch's role is apolitical.
A spokesperson for Her Majesty told The Huffington Post UK the palace does not comment on the Queen's private conversations.
Republic's spokesperson Graham Smith said " when there's an opportunity to court public opinion" the Queen was happy to interfere with politics.
"We're told the Queen is above politics and never gets involved, yet she has apparently admitted that she has interfered in a controversial issue," he said.
"Will she also be making her views known on Julian Assange or Gary McKinnon? Is she all the while meddling in the political process and demanding action from the courts?"