Obama and Romney squaring up in the ring, Julian Assange playing cards with Hilary Clinton and the President of the United States smoking a victory cigarette are just some of the images set to greet commuters at Regent's Park tube station in October.
They're not real, of course, but the latest handiwork of Alison Jackson, the artist who has made a career out of hiring lookalikes and arranging them in provocative scenes (rather than asking them to make awkward appearances at parties).
However if one of the models looks too much like the real thing to be a mere doppelganger, that's because they are - Jackson says Julian Assange is real.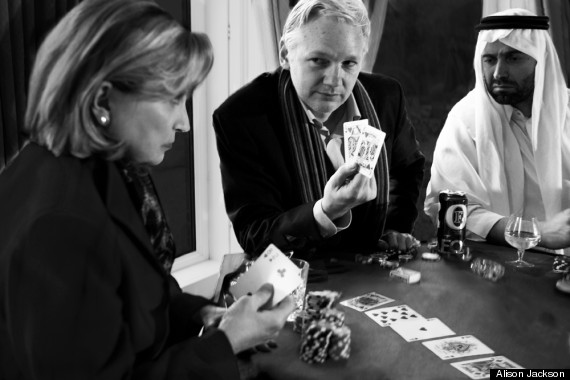 "He was very game to get involved" she explained.
"I like to do that sometimes - throw in a real celebrity and see if anyone notices. Nobody knows what's real and what's not any more anyway."
The US election-inspired images form the latest project by Art Below, an independent public arts organisation that gives artists access to advertising space to showcase their work in the London Underground.
Elsewhere on Culture this week...