David Cameron's appearance on The Late Show with David Letterman on Wednesday night has divided opinion in the British press.
The Telegraph said the prime minister left one of America's most-watched chat shows "red-faced as he struggled to answer questions about British history" but implied that the Cameron had fared better than his great Tory rival Boris Johnson who appeared on the same show earlier in the year.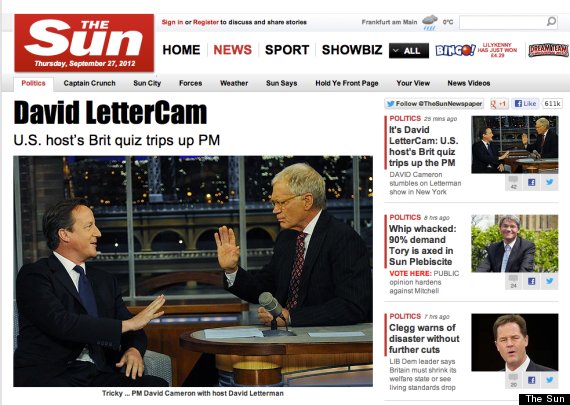 The Guardian ran with the line "Cameron fluffs citizenship test" and talked of the PM "shifting slightly awkwardly in his seat" after failing to answer a difficult teaser on the origins of the song Rule Britannia.
The Independent offered similar sentiment, saying that Cameron, a PPE graduate from Oxford, "failed Letterman's history test".
The Sun ran with the bizarre/nonsensical headline "David LetterCam", but went easy on the PM's performance, saying he "won applause during the 15-minute interview when he spelt out how little cash is spent on political campaigning in the UK compared to the US and pointed out that political parties are not allowed to advertise on British TV".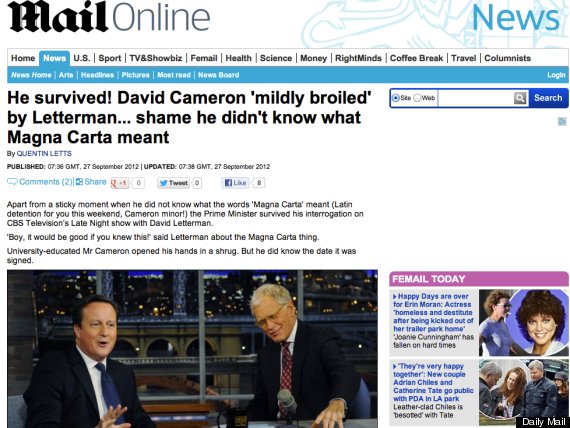 The Mirror, unsurprisingly, was more critical, calling Cameron a "Brit of a twit", adding that he looked "flustered".
Finally, The Daily Mail proclaimed that Cameron "survived", albeit "mildly broiled". They even applauded the PM for getting " some blatant plugs for the British employment market," adding that "his chops looked tanned and smiley".
SEE ALSO: