Emma Watson has revealed that leaving her Harry Potter alter-ego behind was "liberating".
The 22-year-old actress, best known for playing bookish wizard Hermione Granger in the fantasy films, has taken her first major post-Potter role in The Perks Of Being A Wallflower, a coming-of-age drama based on Stephen Chbosky's novel of the same name.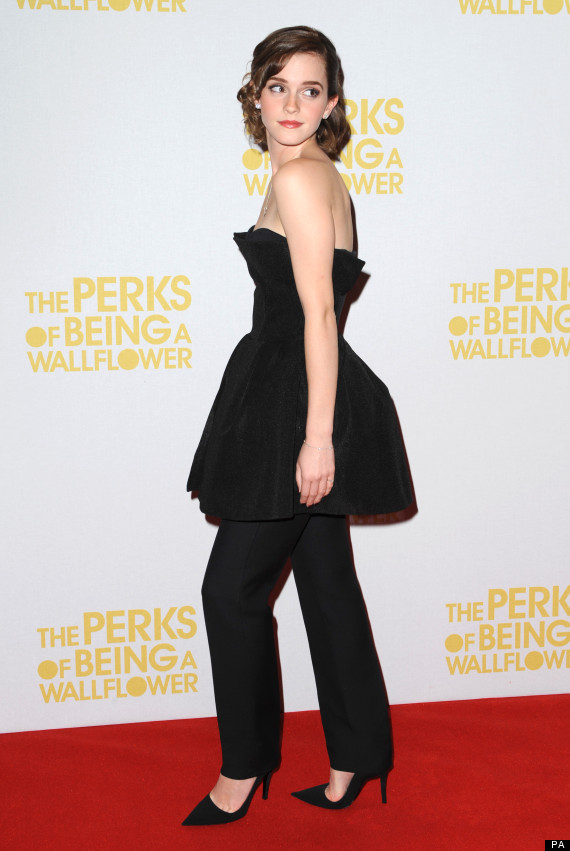 Emma Watson debuts her new film in London
Wearing a black peplum dress and wide-legged trousers by Dior Couture, she said before a gala screening at London's Mayfair hotel: "It was challenging. I was very nervous.
"Having played someone who was so restrained and very English to playing this free-spirited American girl, which was at the other end of the spectrum for me, it took a while to break down a lot of the barriers I didn't even realise I had put up for myself.
"So when I did, it felt very liberating. I'm very proud of the film."
Actors Logan Lerman and Ezra Miller also star in The Perks Of Being A Wallflower, which opens in cinemas next Wednesday.
The actress also spoke to this month's Empire magazine about moving on from Harry Potter.
"I really get boxed up as 'nice white middle-class girl'," she told the film magazine. "But I've been amazed about how open-minded directors have been about what I might be able to do."
As well as Wallflower, Watson's been snapped up by Sofia Coppola for The Bling Ring, and just wrapped on Darren Aronofsky's Biblical epic Noah.
About Wallflower, she told Empire, "I get to play a crazy LA valley girl, a Biblical girl, an American high school girl, an 18th century period girl... getting to do lots of different things. But it's always worrying: is all that's going to come out Hermione?"
Well, Hermione never dressed in a Rocky Horror Picture Show ensemble of sexy corset and stockings, as Watson does in Perks... "I was so nervous, but it was such a laugh to get dressed in all those costumes, to get to dance."
The Perks Of Being A Wallflower - Special Screening
Check out her style evolution below...
The Perks Of Being A Wallflower - Special Screening
The full interview with Emma Watson is in Empire Magazine, on sale today.