The Killers band have joined in those stars paying tribute to legendary crooner Andy Williams.
Brandon Flowers and Co paid their own homage on Wednesday evening, performing a rendition of his classic song Moon River.
The band took to the stage at The Fonda Theatre in Los Angeles a day after the veteran entertainer passed away at the age of 84 following a year-long battle with bladder cancer.
In a nod to the late star, frontman Flowers serenaded the crowd with the band's own take on the Oscar-winning song.
The Mr. Brightside hitmakers first performed the track at London's Hard Rock Calling festival last year.
VIDEO: The Killers below...
Meanwhile, other stars remembering the easy-listening legend include members of The Osmonds, whom Williams toured with at the beginning of their careers and introduced to a huge American audience on his own top-rated TV show.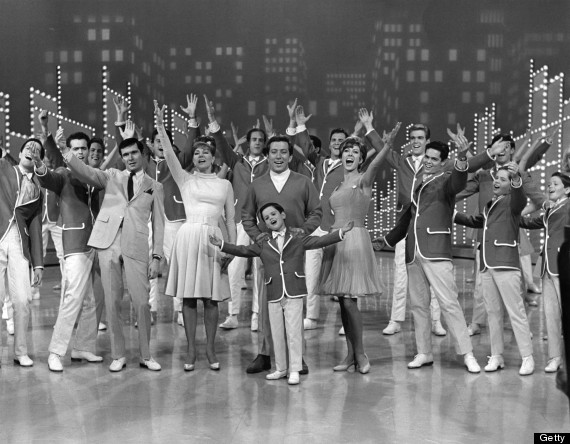 Andy Williams with the Osmonds on his show in 1965
Puppy Love star Donny Osmond reveals he was "always impressed" by Williams' stage presence and will "treasure" the singing lessons his mentor gave him when he was starting out as a talented seven-year-old.
In a post on his website, he writes, "Andy Williams was an inspiring man in both his music and his life. The clarity and warmth and grace of his singing shaped my love of music as I watched my brothers perform with him on his weekly show.
"When I finally joined my brothers and toured with Andy as his opening act and back-up singers, I was always impressed with the way he handled an audience. He loved the audience. That was one of the most important lessons he taught me."
And Donny's elder brother Alan added his own tribute with a post on TheFamily.com: "When I heard this morning that Andy Williams had died, my heart felt a major loss; yet there was a peaceful feeling of love that warmed my soul for a dear friend. I knew he had been struggling with a health challenge but was told a few weeks ago that he was planning on returning to the stage.
"We have known Andy Williams for a long time and we loved him. He was like an older brother and a part of our Osmond Family. (On) behalf of my family, we offer our everlasting love to Andy and his family."