A dramatic new portrait of the Queen has been unveiled in Australia.
Painted by Australian-born artist Ralph Heimans, the ambitious and large-scale new work, measuring nine feet by 11 feet, depicts the Queen in the Sacrarium of Westminster Abbey, also known as The Coronation Theatre.
The painting was shown publicly for the first time today by the Australian Governor-General Ms Quentin Bryce AC CVO at the National Portrait Gallery in Canberra, Australia.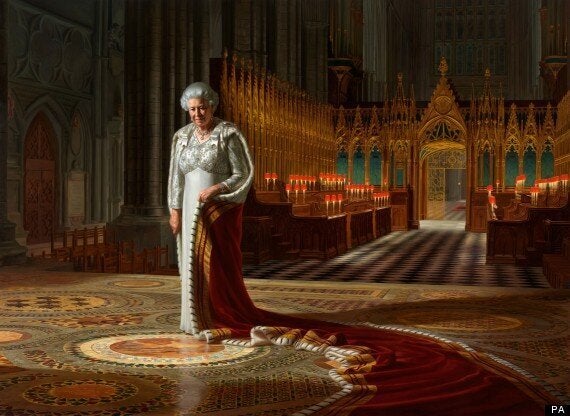 Ralph Heimans impression of the Queen
Entitled The Coronation Theatre, Westminster Abbey: A Portrait of Her Majesty Queen Elizabeth II, the work is on display at the National Portrait Gallery until March 2013 as part of a new display celebrating the Queen's Diamond Jubilee.
The artist, who is based in London, had a sitting with the Queen at Buckingham Palace on 21 March, but the scene is an imagined one, set at night in Westminster Abbey.
Mr Heimans said: "Through the narrative of the portrait I wanted to produce a work of particular significance for the Diamond Jubilee.
"By representing the Queen as she reflects on this incredible milestone in her life, I wanted to explore the dynamic between her public role and the personal, emotional dimension."
The work depicts the Queen in a moment of solitary reflection, standing at the centre circle of the Cosmati pavement, on the exact spot where she was crowned nearly 60 years ago.
It has been an integral part of the coronation ceremony since it was commissioned by Henry III in the 13th century and is the spot where every English monarch has been crowned for the last 900 years. The floor was covered for approximately 150 years and has only recently been restored.
Elsewhere in Culture this week: