Viewers will see Karen Gillan leave Doctor Who in "flames of blazing glory" on Friday, the actress has claimed.
Gillan, who plays the Doctor's companion Amy Pond, and her on-screen husband Rory, played by Arthur Darvill, are leaving the show after a two-and-a-half year stint on the show.
Gillan, in Alabama making horror film Oculus, will watch her last episode with the film's cast and crew in the US.
"All I wanted was for her to go out in flames of blazing glory and she definitely does that. I couldn't have wished for a better way to go," she said.
Gillan will make her last appearance on the show on Saturday night
Gillan, who was "emotional for about two weeks" after filming finished, said she was able to pass on a few tips to her replacement Jenna-Louise Coleman before she left.
"I felt wise and mature which has never happened to me before," Gillan said.
She went with her "gut instinct" to leave the show, adding that the decision upset her mother.
"My mum was devastated. She was like 'No, Karen I don't want you to leave'."
Gillan said she is too busy working to have a relationship and that there is no chance of romance with Darvill.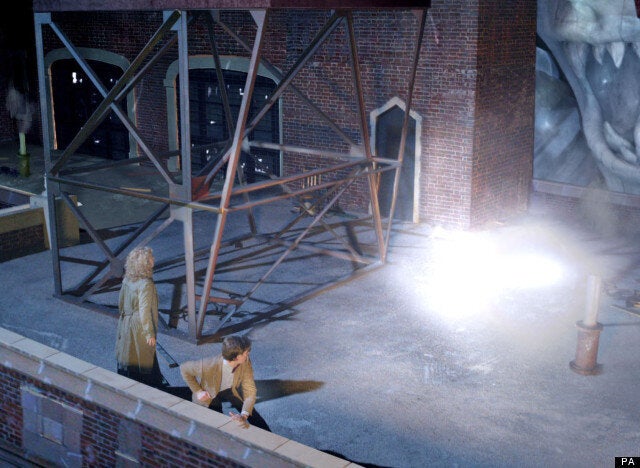 Gillan said she couldn't imagine a better way for her character to go out
"I'm sure he'll make a fantastic husband to someone that's not me."
Due to appear in Charlie Brooker's police parody A Touch Of Cloth, Gillan said she wants to do more science fiction and would continue watching Doctor Who.
"There is no way that an episode can go by. I need to know what happens."
The star, who said she pinched the binoculars from the Tardis as momento, makes her final appearance tonight on BBC1 at 7.20pm.