Members of the English Defence League (EDL) clashed with police in the town of Walsall on Saturday.
According to West Midlands Police, 28 arrests were made as more than 1,000 people gathered in the town centre for an EDL and a rival protest.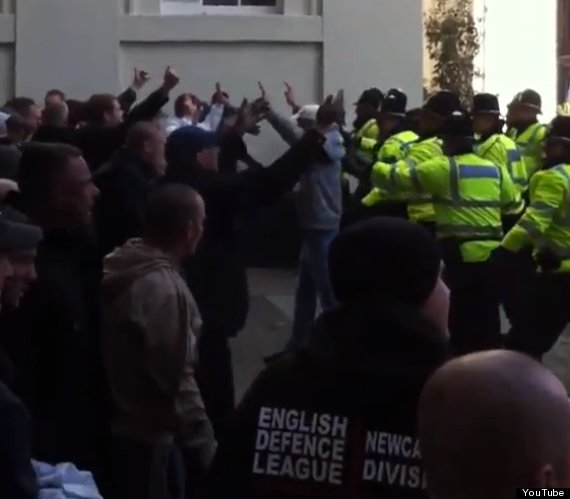 Police use batons against members of the EDL in Walsall
Both officers and protesters suffered minor injuries during a prolonged clash at the end of the EDL rally.
The protest started mid-morning in Leicester Street, with huge numbers of police deployed to keep order as members of the far-right group staged a protest against "militant Islam".
The rival protest gathered in Gallery Street, with police positioned between the two.
According to the Birmingham Mail, missiles, including "bricks, bottles and litter bins" were thrown at the police as skirmishes broke out during speeches by members of the EDL.
SEE ALSO:
Officers with shields and batons cleared the town centre by charging at the demonstrators. Members of the right-wing group were forced back onto buses to stop further clashes.
"The majority of people attending the two demonstrations were peaceful and law abiding," said Chief Superintendent Dave Sturman. "Unfortunately a small number of people at the Leicester Street site became a little more aggressive and there was minor disorder for around ten minutes.
"Arrests were made where necessary and further enquiries will be made to determine if any other offences were committed."
No arrests were made during a similar protest in Edinburgh, where members of the Scottish Defence League (SDL) held a static rally outside Holyrood after the council denied permission for a full demonstration. The Scottish Defence League holds a static rally outside the Scottish Parliament
The SDL were met by a rival protest organised by Unite Against Fascism (UAF), who marched along the Royal Mile to the Scottish Parliament. Outside Holyrood, demonstrators were kept apart by barriers.
Reported by STV, Luke Henderson, a spokesperson for UAF, said: "People are here today to show that the streets of Edinburgh belong to all our diverse communities and that these communities help keep our cities vibrant."