Suspect photoshopping skills aside, the message of this new campaign poster from the Liberal Democrats is pretty clear - Labour is responsible for the excesses of the banks.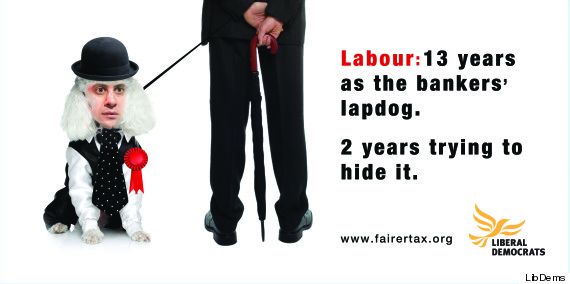 Commenting, a Liberal Democrat spokesperson said: "Ed Miliband's political education didn't take place at school in Primrose Hill but in the Treasury under Gordon Brown. He and Ed Balls were special advisers to Brown when they let the banks run amok and claimed to have abolished boom and bust.
"It is the poorest and the most vulnerable, those Labour claims to represent, that they let down the most in their 13 years in power.
Adding: "On their watch the gap between the richest and the poorest grew into a chasm; they hit low income workers by scrapping the 10p tax rate; and insulted pensioners with the measly 75p state pension rise."
Miliband is likely to reject the claim he is the bankers poodle, while Ed Balls has already told HuffPost UK that he has "never been a bitch".
The Lib Dems plan to drive a van featuring the poster around the Labour conference in Manchester today, before parking outside the main conference hotel. The scamps.