Labour: Tough on bankers, tough on the causes of bankers. And the causes of the Independent Police Complaints Commission. And police privatisation.
In another attempt to position her party as champions of law and order Yvette Cooper managed to cram in references to the founder of the police Sir Robert Peel, Tony Blair and Karl Marx. Oh, and she did the Mobot.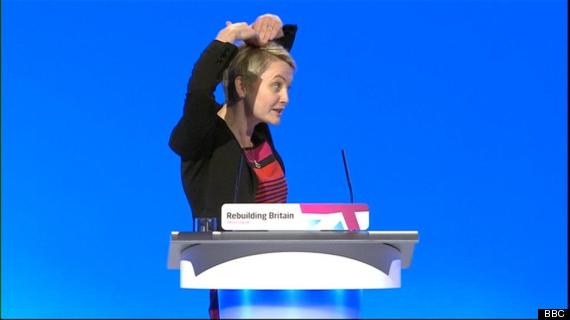 "We need stronger action on economic crime," she told the Labour party's annual conference on Wednesday morning.
"Look at the Libor scandal that emerged this summer. It is a multibillion pound fraud. People were fiddling the figures to get rich, while small businesses paid the price. Yet no one has been arrested."
Her reference to Andrew Mitchell ("plebs of the world unite, we have nothing to lose but this government") was met with laughter.
Her call to replace the Independent Police Commission with a stronger body - after Hillsborough, after Ian Tomlinson, an ovation.
The delegates lapped it up. Especially her call to lock up the bankers. "She's quoting Marx and bashing the Tories. That's a potential future leader," said Jack, 23.
Another said they thought this conference had been about Labour getting its confidence to attack back - especially over Libor and Conservative reforms to the police service.
"We've been firming up attack lines against the Tories" says Richard, 28. "We're gaining confidence as an opposition."
But she's not as popular as Mo Farah yet. One delegate left the hall muttering that it was "adequate." Outside the hall, it's another question altogether.
Still, she's riled up the Tories who lamented Labour's banker bashing.
"Labour had 13 years to stop this manipulation that occurred on their watch - but failed to do so," a spokesperson said.
"Instead of political posturing, what we need to hear from Labour this week is an apology."