Using fear of failure and power as motivations to climb the corporate ladder is turning women off from senior management jobs, according to a new report.
Talent measurement company SHL has surveyed more than a million employees to research on leadership potential, across gender and generations, and has found the motivation techniques adopted by businesses may be turning women off from senior management jobs.
Men in leadership positions are motivated more by power and fear of failure, whereas women are more motivated by a constructive working atmosphere and receiving recognition for their achievements.
Worryingly, the UK lies in 19th position for the percentage of women in leadership roles with 18% - way behind Norway, Thailand and Italy. The US, as a comparison, doesn't even make the top 20 (see table below).
Businesses must recognise their cultures, goals and motivations need to change before women will appear on company boards, according to the report.
Paul Levett, chief product officer at SHL, told the Huffington Post UK that if businesses were serious about wanting more women at the top level, it would need to change office culture.
"The fact that some businesses operate using a fear of failure motivation isn't helpful," he said. "We're educating people, but the change needs to come from those at the top.
"The management process needs to link the way individuals progress while at a firm with traits that are positive for everyone, not just those that men find motivational."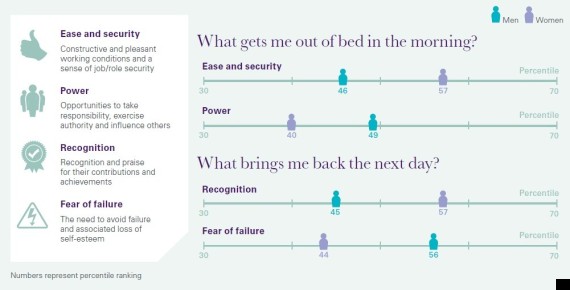 Infographic showing motivation by gender - Source: SHL
Levett added there could be an element of a vicious circle in effect; men dominate boards now and set the agenda for cultural values to be adopted and aspired to by employees, and therefore those values will always be geared towards male goals.
The research arrives on the back of one of the FTSE 100's only female chief executives stepping down - Dame Marjorie Scardino became the first female chief executive of a FTSE 100 company when she took the helm at Pearson in 1997.
Since her appointment there were never more than five female FTSE100 chief execs at any one time, and today there are just four; Burberry boss Angela Ahrendts, Cynthia Carroll, who has run mining company Anglo American since early 2007 and Imperial Tobacco's chief executive Alison Cooper.
Globally, at companies with more than 1,000 employees, women's representation diminishes significantly as responsibility and titles increase: 48% of junior-level positions are held by women, which drops to 36% for mid-level roles and just over 26% for senior level jobs including senior vice presidents and above, according to CEB research.
And according to the 30% Club, a group of chairmen voluntarily committed to bringing more women onto UK corporate boards, women now account for just 17.5% of FTSE 100 board positions.
The research from SHL, conducted by Opinion Matters, also showed that just 49% of women were in favour of introducing quotas to boardrooms - and only 32% of men were in favour of them.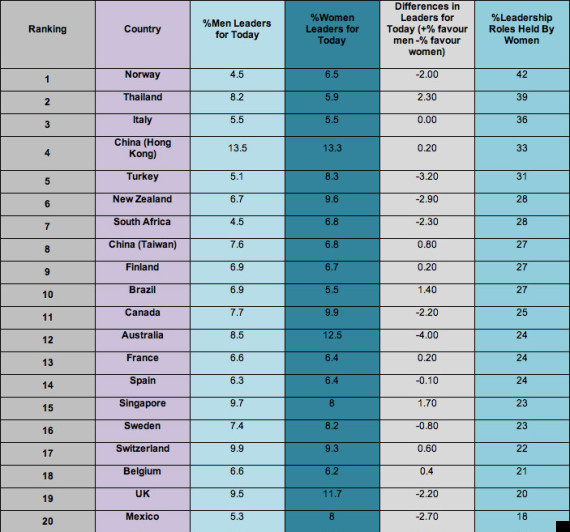 Table showing the top 20 countries by percentage of leadership roles - Source: SHL
But it's not just women who are missing out - boards are woefully under-represented in other areas too, such as with those from other ethnicities, those much older candidates and those who are disabled.
"HR staff and executives must look at the data that is available about why women and others are disengaging - changing policy is part of the process and the only way of doing that is to build a business case around it," Levett continued.
"Some companies are struggling to attract and retain top talents and are suffering from high levels of churn - being more flexible to those who are older, or have family commitments or who need unconventional working hours or practices makes good business sense for the long term."
Does the research reflect your experiences at work? Tell us your thoughts below.