It's been extremely hard to whittle it down, but we think we've found our favourite Halloween costumes ever.
And for a change, this gallery is not dominated by blood and gore – take the mini Wayne and Garth or the little boys who would Kiss a run for their money.
If your heart-strings aren't tugged by Buster's wheelchair being turned into an ice cream van then, quite frankly, you're a monster.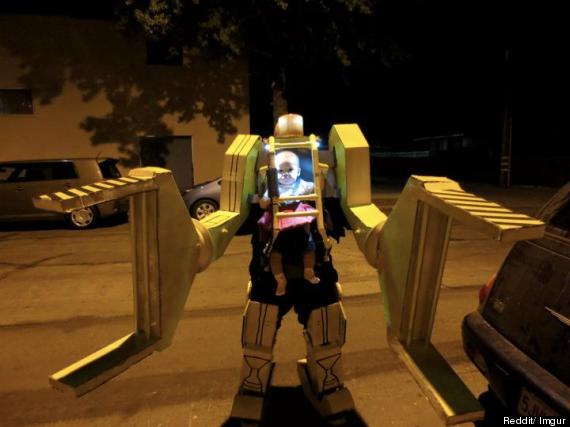 A work loader from Aliens...complete with baby. Just brilliant
Possibly our favourite outfit though is Beast Jesus. Remember the Spanish pensioner who tried to restore a 100-year-old fresco of Christ?
Well someone has turned Elias Garcia Martinez's distinctly simian efforts into a costume… and it just might be the best thing we've ever seen.
So we've covered little kids, rock stars, art projects gone horribly long and we've thrown in a bit of blood and gore in for a good measure. Just a little bit.
Got an amazing Halloween costume? Want to share it with us? Email us the pictures and we'll publish them #halloween ukpicturedesk@huffingtonpost.com
FROM PUMPKIN CARVING TO SPOOKY GANGNAM STYLE DANCING SEE ALL OUR HALLOWEEN STORIES HERE
SEE ALSO: