Radioman doesn't look like your average A-lister.
With his dishevelled beard, gnarled fingers and lived-in sweater, it comes as a surprise to hear him talking about sharing yoghurt with Dame Helen, having chats with Marty, and his recurring role on 30 Rock.
But looks can be deceiving. Radioman, born Craig Castaldo and one of New York's enduring wanderers, who has overcome homelessness and alcoholism, has appeared in around 150 films, as an extra around New York City, playing himself or variations thereof, and is now the subject of his own documentary, which premieres tonight in London, in aid of Shelter.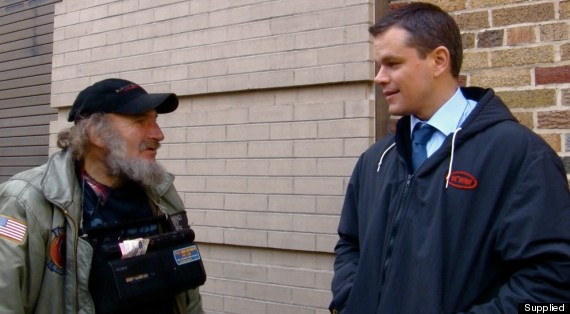 Radioman and Matt Damon
Marty, Leo, Robert, Ron Howard… they all know Radioman, and they're all happy to work with him, and many famous faces were happy to contribute – for no money –to the film, as Radioman knew who they'd be.
"He's a cultural institution…You get on first names with Radioman and you know you've made it," reports Tom Hanks. Check out Radioman's impressive CV here...
It all started when Radioman bumped into – quite literally - Robin Williams filming in Central Park one evening. Williams, playing a homeless dreamer in The Fisher King, was surprised to see somebody who looked like him, and put him in the film.
Since then, the 62-year-old self-professed film buff has appeared in 150 movies, and is a paid-up member of the industry, after a group of better-off friends banded together to pay for Radioman's subscription to the Screen Actors' Guild.
And he can even boast of being sent to jail for the night by a disgruntled Mel Gibson. The pair still speak to each other.
"I just treat everyone the same way, whether they're famous or not," reports Radioman, who is on first-name terms with the likes of George Clooney, Meryl Streep and Ridley Scott.
The daily routine for Radioman is to get up each day at his home in Brooklyn, make a few calls to establish who's shooting what film where, and head down there on his bike. His favourites remain Marty, Ron… oh, and Leo – and he can rattle off the day rates, night bonuses and work conditions with the best of them.
"Angie and Brad, they're great people, and so is Jennifer Aniston, she's lovely," he reports with the diplomacy of a pro. So has he got a bad word to say about anybody? He has a quick think…
"Sean Penn. He's a prick. But he's a great actor, though. I'll give him that."
Radioman is in UK cinemas from Friday 12 October, and premieres tonight at London's Cineworld Haymarket. Click here for tickets and info. Watch the trailer below and count his famous friends…