Edinburgh Zoo's resident giant pandas were honoured on Tuesday night for their services to Scottish tourism.
The black-and-white bears, called Tian Tian, meaning 'sweetie', and Yang Guang, meaning 'sunshine', have been a top attraction at the zoo, with more than 500,000 visitors passing through their enclosure since they arrived from China in December 2011.
To recognise their crowd-pulling prowess Panda Tian Tian took receipt of a special one-off Scottish Thistle Award from the Chairman of VisitScotland, Mike Cantlay, at Edinburgh Zoo.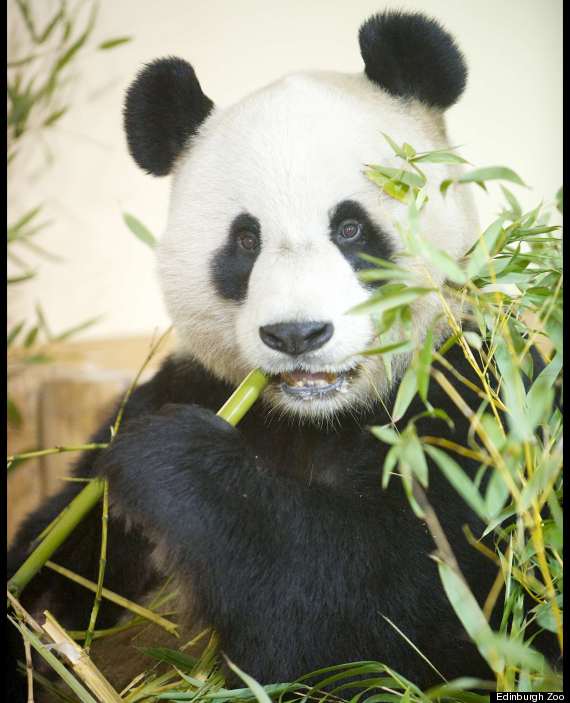 Chewsy bear: Yang Guang enjoying life at Edinburgh Zoo
It was a trophy crafted from bamboo – the bears' favourite food – and local Burr Elm.
Mr Cantlay said: "Since Tian Tian and Yang Guang's arrival last year, they have put one of Scotland's best-known visitor attractions on the world map and shown excellence in tourism, which is what the Scottish Thistle Awards are all about - so it's only right that we came here to honour their achievements."
Chris West, Chief Executive Officer of the Royal Zoological Society of Scotland, said: "It's a great privilege that our giant pandas, Tian Tian and Yang Guang, have been chosen as the recipients of an honorary Scottish Thistle Award. It's a real accolade and we're delighted to accept the award on behalf of Tian Tian and Yang Guang. It's made even more special by the fact that it's made from bamboo – what more could our pandas ask for!"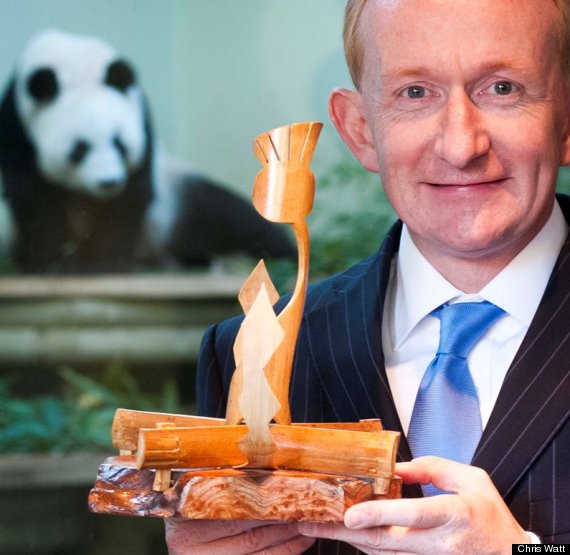 Panda-ring to the bears: Mike Cantlay with the special bamboo award
The panda presentation took place ahead of the Scottish Thistle Award finals at Kelvingrove Art Gallery and Museum next month, which Tian Tian and Yang Guang, despite their black-and-white attire, are not allowed to attend.
Both bears are eight years old and came from the Bifenxia panda breeding centre outside Ya'an, near the city of Chengdu in Sichuan Province.
Edinburgh Zoo is one of only four zoos in Europe which currently has giant pandas, along with Berlin, Madrid and Vienna.
In captivity, giant pandas live for 20 to 30 years on average. The oldest on record was 37 years and three months.