Doctors in Pakistan have managed to remove a bullet from a 14-year-old blogger who was attacked by Taliban gunman on her way back from school on Tuesday.
Malala Yousafzai was shot in the face and the leg for being "pro-West" according to the Taliban. She is said to be in a stable condition.
The 14-year-old has been vocal in campaigning for girls' rights to education, banned under the Islamist militant group.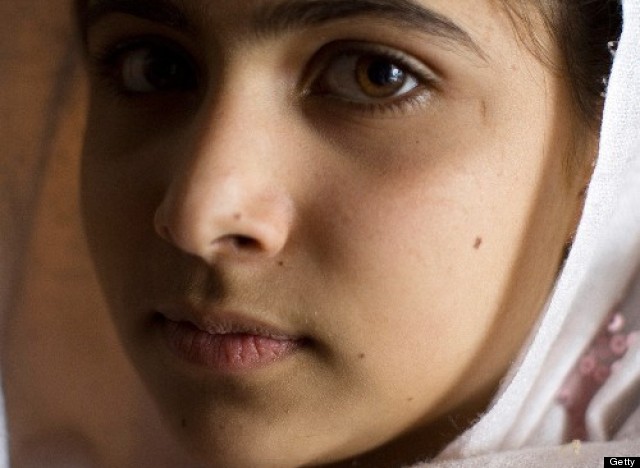 Malala has been writing a blog for the BBC about atrocities committed by the Taliban
Malala was only 11 when she started documenting how difficult it was to get an education: "I dreamt of a country where education would prevail," she wrote.
Her anonymous blog, first published by BBC Urdu, documented Taliban atrocities committed in Pakistan's Swat Valley and saw the schoolgirl receive international praise.
She was awarded the country's first peace award by Pakistan's prime minister in 2011. Her bravery has been hailed by activists and politicians alike.
Afghanistan's President Hamid Karzai strongly condemned the attack, saying "only those, who are against progress and development of the peoples on both sides of the Durand line [the international border between Pakistan and Afghanistan], could perpetrate such a crime."
Prominent human rights activists and politicians from around the world have also voiced support for Malala:
Claiming responsibility for the attack, Taliban spokesman Ehsanullah Ehsan told Pakistani media that "anyone preaching a similar path will also be targeted" and told BBC Urdu that if Malala recovered she would not be spared.
The spokesman said that the young peace campaigner was targeted because she "promoted secularism and so-called enlightened moderation."
"This was a new chapter of obscenity, and we have to finish this chapter," Ehsan added.
According to Al Jazeera, the Taliban said it was "obligatory" to target someone who "leads a campaign against Islam and Sharia". The Taliban claimed responsibility for the attack on 14-year-old Malala and said if she recovered she would not be spared
Although there are a number of differing reports, witnesses claim that Malala was attacked after a bearded gunman boarded her school bus in Mingora.
The man is reported to have asked who Malala was. Whilst one schoolgirl pointed to Malala, the activist denied it was her. The gunman then shot Malala and another girl sitting next to her. A third girl was also wounded.

Doctors at the Saidu Sharif Medical Complex in Mingora said the bullet missed Malala's brain, leaving her out of immediate danger.
The Swat Valley was seized by the Taliban in 2007 and while a ceasefire was agreed with the Pakistan government in 2009, the latest attack has cause some activists to question whether the insurgents have really been driven from the region.
Malala Yousafzai Shot By The Taliban