Pussy Riot member, Yekaterina Samutsevich, has been freed on probation by a Moscow court after an appeal by all three women against a charge of 'hooliganism motivated by religious hatred'.
The two other members of the band, Maria Alyokhina, 24, and Nadezhda Tolokonnikova, 22, had their sentences upheld and will continue to serve two years in a prison colony.
The three were all jailed for two years for performing a 'punk prayer', laced with profanities and an anti-Putin message, on the altar of Moscow's main cathedral, Christ the Saviour, in February 2010.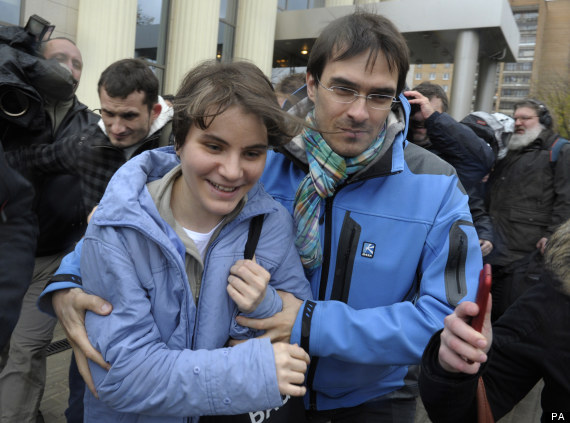 Samutsevich leaves court in Moscow after being freed
Samutsevich's defence was based centred on her assertion that she was removed from the church premises before she was able to participate in the demonstration and as such could not have committed a crime.
During the hearing Alyokhina said: "We're all innocent... the verdict should be overturned. The Russian justice system looks discredited".
Their arrest and subsequent jailing provoked international outcry from supporters who claimed that it was yet another example of Putin ignoring human rights and using the full power of the state to crush dissent from political opposition.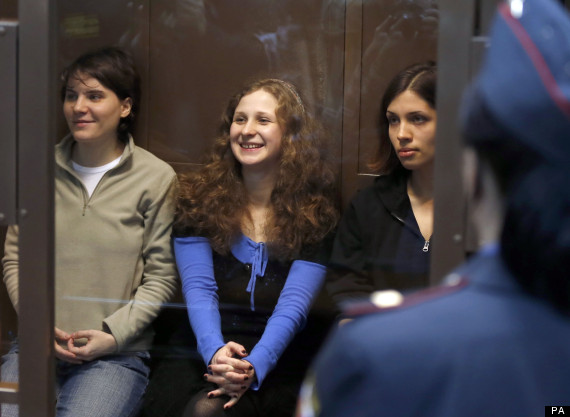 The three members of Pussy Riot in court this morning
Michelle Ringuette of Amnesty International USA wrote: "Say what you will about Pussy Riot: this might not be your kind of music.
"Their actions might offend you. But this doesn't change the fact that freedom of expression, in whatever peaceful form it takes, is a human right, and one on which the protection of other rights rests."
Western music stars from Madonna to Jarvis Cocker spoke out in defence of the trio and even Russian Prime Minister, Dimitri Medvedev insisted they should receive a suspended sentence despite being 'sickened' by their actions.
The appeal was adjourned last week as Samutsevich sought to replace her lawyer due to a 'difference of opinion'.