A Florida zoo have trumped the swimming-with-dolphins craze of yesteryear by offering visitors the chance to have their own private pool party with tiger cubs. Yes, tigers.
For a mere $200 you can risk your life treat yourself (or your kids) to 30 minutes of splashing around with a big cat. Maybe an idea for your next TOWIE-themed party? Or maybe not.
Included in the price is a bottle-feeding session and 'action shots' of the encounter. Not included are additional visitors, who have to pay $10 each to act as witnesses watch.
Wild Things are keen to stress that necessary safety precautions are taken.
"It's not like we're going to just throw you in the pool and say, 'Here's the tiger,'" Randy Stearns, Wild Things president, told Fox 13 News. "You're in there with at least one of the trainers actually in the water with you."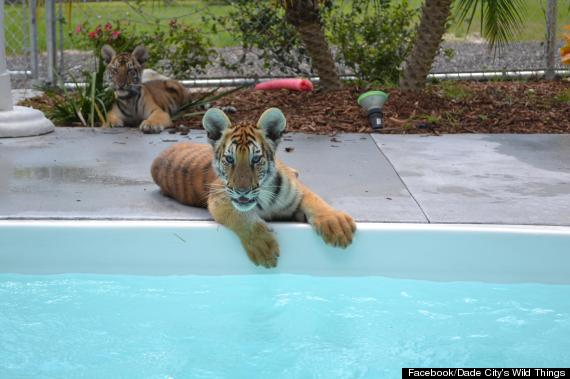 Fancy getting crunk poolside with one of these fluffy fellas?
According to state law in Florida, big cats over 25 pounds aren't allowed in contact with the public, so only cubs can go swimming with visitors. Phew.
The zoo's website ensures that the activity is not just an attraction, but aids the cubs' development:
"When they are young, they love taking baths and then we slowly introduce them to the pool. As part of their training, they are taught many lessons that assist us in their adult life, making them more comfortable with examinations and medical treatments.

"The guest becomes part of the training, in teaching them to ignore distractions and abide by their training as they would do in the exhibits when receiving examinations."
LIKE HUFFPOST UK LIFESTYLE ON FACEBOOK | FOLLOW US ON TWITTER