The first private clinic to offer abortions in Northern Ireland is to open in Belfast, with pro-choice campaigners describing the move as a "real step forward" but warning that the country still had "a long way to go."
Terminations, each costing £450, will be carried out at the new city centre clinic in line with Northern Ireland's strict abortion laws.
The location of the new clinic is being witheld amid fears of pickets.
Pro-life campaigners protest outside a Family Planning Association office in Belfast's Great Victoria Street on a daily basis. The location is being kept secret as the move has outraged pro-life campaigners
However the opening of the clinic has been described as "a groundbreaking move" and "a real step forward" by Darinka Aleksic of Abortion Rights UK.
The 1967 Abortion Act does not extend to Northern Ireland and the provision of early medical abortion is only available when the life of the pregnant woman is at immediate risk or if there is a long term or permanent risk to her physical or mental health.
Although abortion is technically legal in Northern Ireland in cases where the woman's life is in immediate danger or at risk of long term damage to her physical or mental health, in practice the procedure is virtually impossible to obtain, even in cases of rape or incest.
Recent figures from the Department of Health, Social Services and Public Safety list just 123 terminations carried out in Northern Ireland between 2008 and 2011.
Women seeking to end a pregnancy are forced to travel to the mainland UK or further abroad to obtain a safe, legal abortion. They are not entitled to use NHS abortion services elsewhere in the UK and must pay for the procedure and all associated costs themselves, which can amount to £2000.
It is hoped that by providing medical abortion up to nine weeks of pregnancy, the Marie Stopes facility will reduce the number of women who are forced to travel to England while sick and distressed. Pro-choice campaigners have welcomed the decision to open the clinic
Ms Aleksic said in a statement:
"The opening of this centre will not solve all these problems and the fight for Northern Irish women to have the same rights as women in England, Scotland and Wales has a long way to go. But this is a real step forward.
"Women in Northern Ireland are UK taxpayers yet they are treated like second class citizens when it comes to abortion.
"Having to travel to the mainland or further abroad to access safe, legal abortion exacts a huge financial and emotional cost. Over 50,000 women have had to make this journey over the past 40 years and it is an injustice that must not be allowed to continue."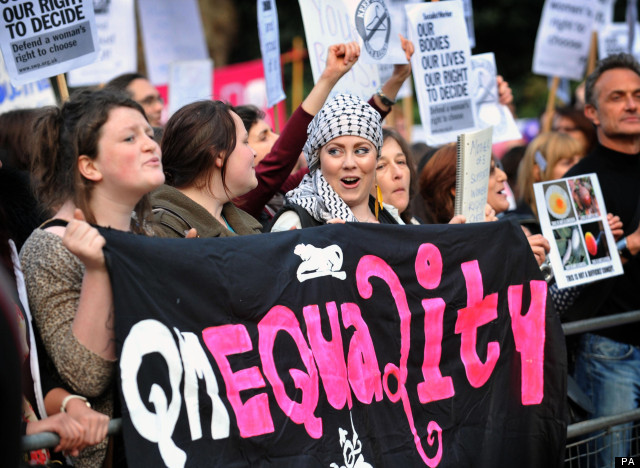 Although welcoming the move, Abortion Rights UK has said 'there is still a long way to go'
However new medical facility has provoked outrage among the anti-abortion lobby.
Bernadette Smith, from the Precious Life group, said: "I am absolutely outraged. An organisation which is making profits from the death of unborn children is not welcome in Northern Ireland. There will be an outcry from the people, from government and from the churches."
Ms Smith insisted: "There is no demand for Marie Stopes in Northern Ireland. The figures for women seeking an abortion have been coming down. The reduction in the number of women travelling to England has fallen by 36% over the last 15 years since the foundation of Precious Life.
SEE ALSO: The Grassroots Network Railing Against The 'Barbaric' Treatment Of Women In Northern Ireland
Dr Paula Franklin, medical director with Marie Stopes, said abortions, which involve taking tablets, would only be carried out on women who meet criteria set by two different doctors.
"In cases where we feel the woman's case meets medical requirements, we will carry out medical abortions. That's where two doctors independently review the woman's history and current physical and mental health," she said.
Aftercare such as counselling and access to a 24-hour helpline will also be provided to women who have abortions.
The clinic will also offer sexual and reproductive services including short and long-term contraceptive options, emergency contraception and HIV testing. Pro-life campaigners have predicted a 'an outcry from the people, from government and from the churches.'
Dr Franklin said: "We know there will be opposition but we also hope there will be some support from the people of Northern Ireland. We think this is a positive move and we believe there is a need.
"Many women from Northern Ireland travel to England for terminations every year. We also know of woman who are unable to make that journey. If we can provide, in the right circumstances, for those women who meet the criteria, this is the right thing to do."
"There is a demand for a crisis pregnancy centre that will provide real help for women in crisis pregnancy."
Dawn Purvis, programme director with Marie Stopes Northern Ireland, said: "We believe this is great news for the people of Northern Ireland because we will be able to meet their family planning and sexual health needs in a way that has not been seen here before.
"We have a new, purpose-built, centrally located specialist centre. Our team are highly trained and dedicated healthcare professionals. And our services will be delivered in a confidential, sensitive and non-judgmental way."