A 39-year-old man has been jailed for eight months for wearing a homemade T-shirt advocating the murder of police for "justice" and fun", just hours after the murder of two police officers in Manchester.
Less than four hours after the killing of Pcs Nicola Hughes and Fiona Bone in Manchester, Barry Thew was seen wearing the T-shirt, which had "One less pig; perfect justice" and "Killacopforfun.com haha" scrawled on it in Radcliffe town centre.
Thew admitted a public order offence, displaying writing or other visible representation with intention of causing harassment, alarm or distress, and was sentenced on Thursday.
The case comes after a teenager was jailed for 12 weeks over offensive Facebook posts about missing five-year-old April Jones.
Index on Censorship's news editor Padraig Reidy said the cases were worrying and seemed to show the criminal justice system was "pandering" to sensitivities about tragic news stories.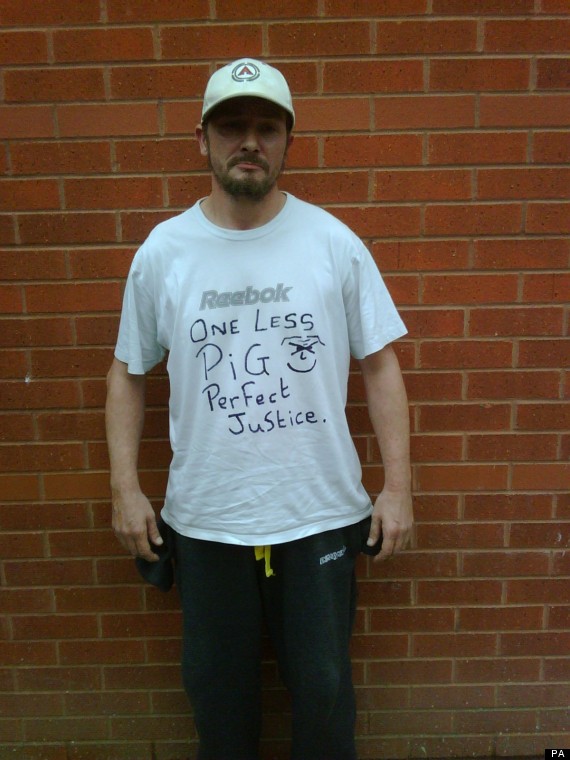 Barry Thew was sentenced to eight months in prison for wearing the "morally reprehensible" T-shirts
"It's very alarming that we're looking at cases that people are getting in trouble for things that are, in a way, reacting to news stories," he tells The Huffington Post UK.
"The heightened sensitives that now seem to be around stories like April Jones seem to be pandered to by the criminal justice system. It's as if the criminal justice system itself is pandering to these sensitivities."
Defence lawyer Stuart Duke said Thew had been wearing the T-shirt when the crime happened, and had a long standing dispute with the police, according to reports in the Manchester Evening News.
"The wearing of this T-shirt was not in response to the deaths of the two police officers but it was another case.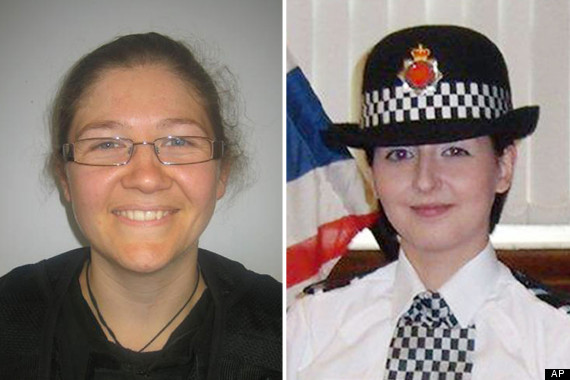 PCs Fiona Bone and Nicola Hughes were killed in a gun and grenade attack in September
"It is an on-going dispute between Mr Thew and Greater Manchester Police. He feels victimised and picked on.
"He did not go home when he heard the news. He was already wearing the T-shirt. He accepts that he is guilty by reason of his plea."
Judge Peter Lakin said Thew's T-shirt was "disgusting."
"This, on any view, is a shocking case. Your response to the shocking events was to parade around in a T-shirt in the centre of Radcliffe which had on it the most disgusting of slogans," he told the court.
"In my judgement, it is utterly depressing that you felt able to stoop so low as to behave in that way.
"Your mindless behaviour has added to the pain of everyone touched by the death of these young officers. You have shown no remorse."
Thew, of Wolsey Street, pleaded guilty at an earlier hearing at Manchester Minshull Street Crown Court to the public order offence. He was sentenced to four months in jail and received an additional four months after he admitted breaching the terms of a previous suspended jail term.
Greater Manchester Police's Inspector Bryn Williams said that mocking the deaths of two police officers was "morally reprehensible."
"While officers on the ground were just learning of and trying to come to terms with the devastating news that two colleagues had been murdered, Thew thought nothing of going out in public with a t-shirt daubed with appalling hand written comments on.
"Thankfully the overwhelming response from the public - who have inundated us with messages of support and condolence - prove that Thew is the exception and not the rule and our communities were right behind us at our darkest hour," Inspector Bryn Williams, of the Radcliffe Neighbourhood Policing Team said.
"To mock or joke about the tragic events of that morning is morally reprehensible and Thew has rightly been convicted and sentenced for his actions."