This remarkable (and slightly unsettling) picture shows the moment in 1991 when Jimmy Savile introduced boxing legend, Frank Bruno, to notorious serial-killer, Peter Sutcliffe at Broadmoor high-security psychiatric hospital.
Sutcliffe was serving 20 life sentences for the horrific murders of 13 woman and the attempted murders of seven others.
Bruno was there to open a new gym.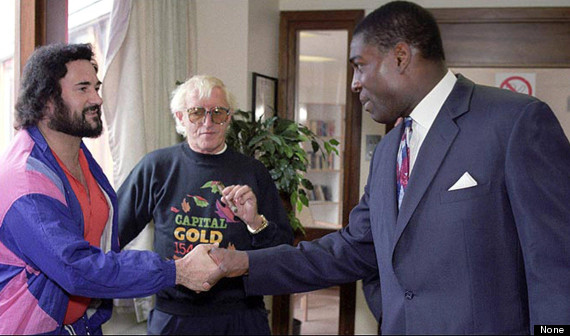 The unusual meeting took place in 1991
Whether or not the rather portly looking Sutcliffe took advantage of the new facilities is not known.
Savile worked as a volunteer at Broadmoor where he befriended Sutcliffe during the course of his many visits.
A Broadmoor source told the Sun in 2009: "It was just incredible seeing Big Frank shaking the Yorkshire Ripper's hand. There are probably more than a few people out there who would rather they met in the ring.
"Obviously Frank knew what Peter had done to those women. He was there to do a job and acted very politely. But when he turned round he raised his eyebrows as if to say, 'My God, that was the Yorkshire Ripper'."
Allegations have surfaced in the wake of an ITV documentary that Savile sexually abused inmates at the hospital to which he had his own set of keys.
A former worker has since spoken out to say that this would be impossible as Savile would never have been left alone with patients.
Since the photo, Sutcliffe has been told that he will never be released from the psych hospital whilst Bruno has had his own mental health problems fuelled by cocaine abuse.