It was the food equivalent of a rock superstar's secret gig in a local North London boozer.
In-N-Out Burger, the LA burger chain founded in 1948, adored by foodies like Gordon Ramsey, Julia Child and Anthony Bourdain, made a special guest appearance across the Atlantic, for less than five hours, opening a pop-up shop in an unassuming Hendon cafe.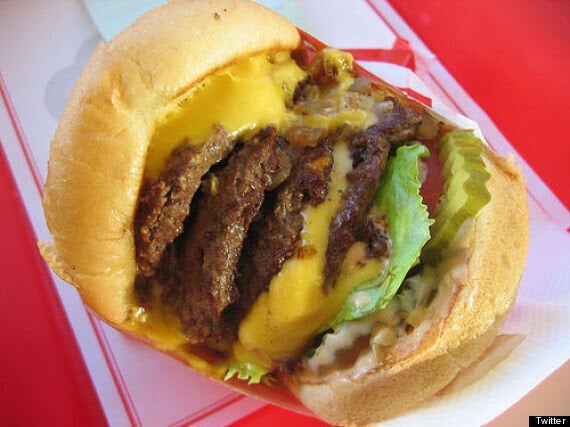 An In-N-Out burger, like the ones served in Hendon
Its arrival was announcing by an unassuming newspaper advert and a green sign posted on the door of the Florence Cafe in the quiet north west London suburb's unassuming high street.
The makeshift pop-up of In-N-Out in Hendon
It said the cafe would be closed for a "special event" with In-N-Out Burgers serving between 11-3pm.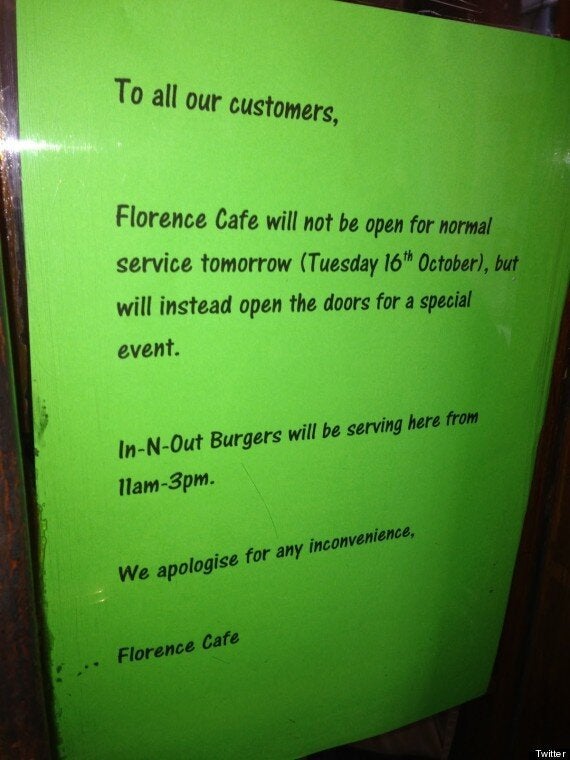 The notice in the Hendon cafe before the arrival of the pop up
Twitter users expressed their bewilderment at the choice of location, at the far end of the Northern Line, and whether the pop-up was genuine.
Those venturing for a Tuesday lunch found a makeshift sign in the window of the cafe, but a genuine menu board was installed, with choices of burger or cheeseburger, served with salt and vinegar crisps - though the buns were reportedly a very British Warburtons.
He said: "The real test to see if the quality had transfered across the pond...Booya it had. It was as I remembered it State-side, incredibly flavoursome and juicy with the kick of mustard due to the animal style cooking.
"Why Hendon? They want people to have to work a bit to get the burgers he said, not impossible to get to but when you think of the numbers and random passers by who would have queued I think they are doing the right thing."
Related