Wayne Rooney scored his 32nd goal for England in Warsaw's National Stadium but it didn't seem like it. Whereas Sven-Göran Eriksson was so reliant on the striker he selected him half-baked for the 2006 World Cup, Roy Hodgson had no qualms about slinging off the goalscorer on Wednesday evening
Rooney was poor in Poland and his form for the national side is an on-going enigma which dates back half-a-dozen years ago. Although he was unfit in Germany, it was the beginning of a downward spiral which moved on to a more pitiful display in South Africa four years later. His second European Championship this summer, eight years after his breathtaking four-goals-in-four-games in Portugal, could not galvanise him either. He scored the winner past Ukraine, but he again looked unfit.
At his peak, Tiger Woods' Kryptonite was matchplay golf, for Rooney, maybe it's international football.
He's far from the only one. Frank Lampard's profligacy since Euro 2004 at major tournaments, Steven Gerrard's sudden inability to retain the ball and John Terry resembling a forlorn lamb to the slaughter against Germany in Bloemfontein are other examples of the 'golden generations' failings.
But Rooney, so England fans remind us, is 'the white Pelé'. It's a statement which unfortunately sounds more inappropriate with every airing.
He is now only behind Sir Bobby Charlton, Gary Lineker, Michael Owen and Jimmy Greaves in the all-time goalscorers' list for the Three Lions. Six days shy of his 27th birthday, he seems destined to break Charlton's record for England and maybe even Manchester United (Charlton ended on 249, Rooney is on 181), but it contradicts his quality.
Rooney's first touch versus Poland was akin to a rugby player attempting to control a football. Some were surprised at this but sussed United supporters will have regarded it as par for the course. That the 26-year-old scored completed his first half performance with an important goal chimed with his club form, for although he scored 34 goals last season for United the tally masked a wavering performance level.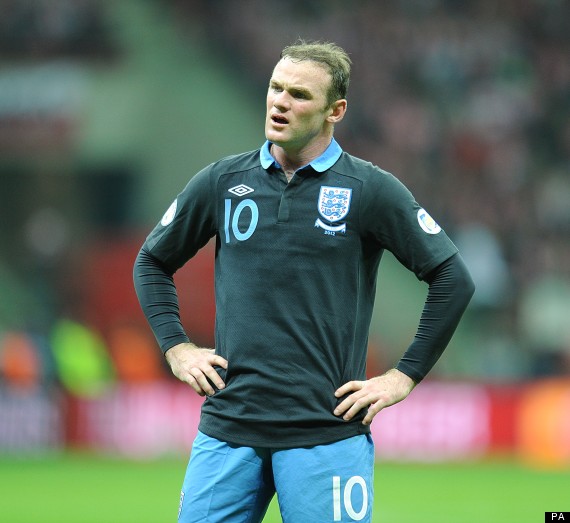 Warsaw woe
It was similar to 2009-10 when Rooney totted up the same amount of goals for his club. Often his control would desert him and he would belie the predatory striker Sir Alex Ferguson had converted him into, then BANG!, a moment of genius, or a header (he nodded in seven of them successively) would have the pundits and writers extolling his instincts. A World Cup was round the corner, after all.
Retrospectively, his PFA Players' Player of the Year award and Football Writers' Association accolade should have gone to Didier Drogba, who won the Premier League and FA Cup (scoring the winner in the final, naturally) with Chelsea and top scored in the Premier League.
Rooney is not the player he should have been, either.
As a prodigious teenager whose balance and flair was so illuminating with Everton you could be forgiven for thinking he could set the world alight literally. Only rather than mould him into one of his generation's greatest number 10s, Ferguson played Rooney in midfield, on the left wing and as a number nine. His best football for United has come, contrary to belief, playing off a striker (Javier Hernández or Danny Welbeck) rather than at the tip of the arrow.
Under Hodgson, the dilemma persists. Rooney's fourth England manager persists with Jurassic tactics and a philosophy which resuscitates the backwards Charles Hughes brand which hinders his best player. And he is not supported by the quality he is accustomed to at club level. Where Rio Ferdinand attempts to distribute the ball out of defence Phil Jagielka gleefully boots it into oblivion.
But you substitute him at your peril. His replacement, Alex Oxlade-Chamberlain, should not have been picked by Hodgson because not only does he appear too raw for international football but he must get more game-time with Arsenal. There's also the gesture of dropping Rooney, which will buoy the opposition.
And while he may be about to reach his peak, the Rooney David Moyes unleashed in 2002 has not lived up to expectations.