Need an antidote to the rush of modern life? New Work 2012 by Michael Clark Company, showing at the Barbican, brings contemporary dance and music that reminds us we are human beings, not machines.
Eminent choreographer, dancer and artist Michael Clark presents his latest work with eight performers and three musicians: controlled moves, rigid bodies, metronomic timing, androgynous costumes, throbbing ambient sounds and mood lighting.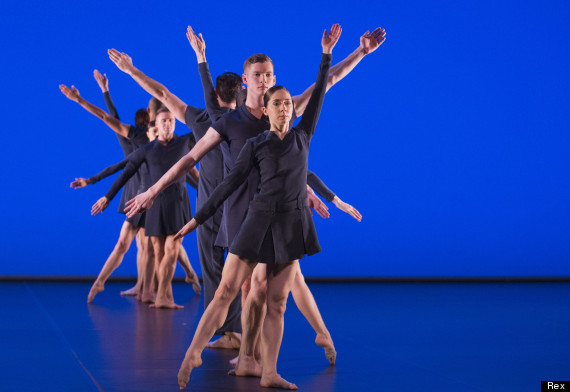 Benjamin Warbis and Melissa Hetherington with dancers from New Work 2012
Coming to prominence in the early 1980s, Clark combined classical integrity with his own unique contemporary creations.
It is easy to imagine the iconic choreographer is a perfectionist. Each twist, turn, flexed back and extension of a muscled leg is loaded with meaning, concentration etched on the faces of the performers. Controlled drama is played out on stage: dancers clashing, interacting, coming together, moving apart, some synchronising, others in a world of their own.
Jonathan Ollivier dancing with Julie Cunningham
We are led to discover our own narrative. One sequence suggests the chaos of the digital world, as the bleeping sound of dial-up Internet changes to the whirring noise of radio frequencies, whilst abrupt questions are projected on to the back screen: "What? Why Me? Why You?"
Could Clark be portraying the human body turned inanimate in an age of technology? Perhaps the rigid movements celebrate the ability for our bodies to exact strong, decisive and precise movements, as efficient as any new piece of modern gadgetry. It is not just opposable thumbs that have given us our edge in the survival of the fittest; Clark explores the wonder of control of every limb with electrified poise.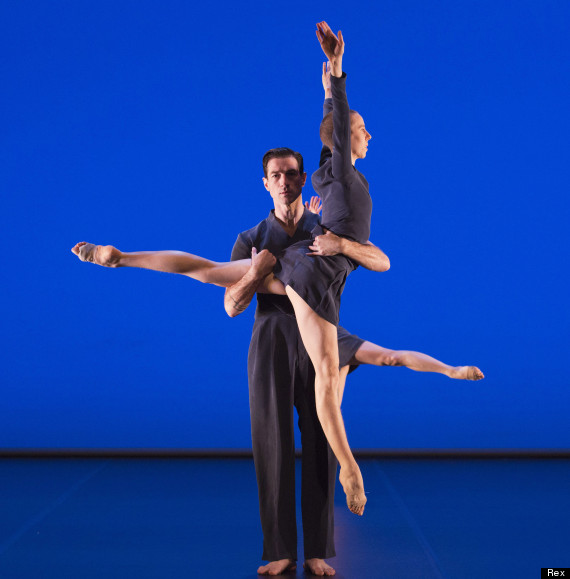 Jonathan Ollivier dancing with Julie Cunningham
The dancers of New Work 2012 do not need to rely on an audible beat to keep perfect rhythm. Act One ends in silence, the performers moving in synchrony, no sound to be heard except for the soft sweep of bare feet on the stage floor - oddly more powerful than when accompanied by music.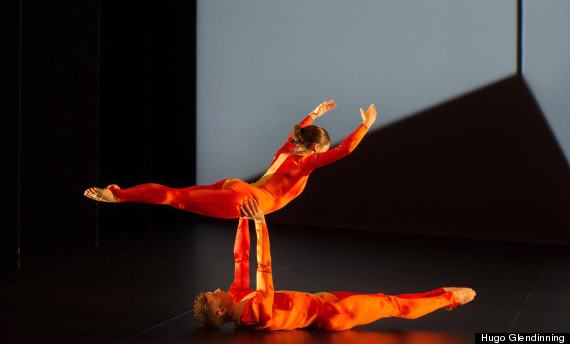 Melissa Hetherington and Benjamin Warbis
The smooth tones of veteran pop band Scritti Politti provide the score of Act One, followed by a live performance from Relaxed Muscle in Act Two, with lead singer Jarvis Cocker, guitarist Wayne Marsden and drummer Zoë Grisedale-Sherry. In masked Halloween splendour, Cocker leers at the audience with electric rock swagger, whilst Clark's dancers perform accompanying routines - we descend into a nightclub for the ghoulish undead.
New Work 2012 brings a careful balance of thoughtful world class contemporary dance, with old-fashioned crowd pleasing music and visuals - perfect for a dose of culture and warm-up Halloween entertainment.
Michael Clark Company's New Work 2012 is running at the Barbican, London, 17 Oct 2012 - 27 Oct 2012.
Michael Clark Company, New Work 2012
Take a look at all of HuffPost UK's theatre reviews:
Michael Clark Company, New Work 2012