Sunderland and Newcastle United is one of those football derbies everyone outside of Sunderland and Newcastle find difficult to appreciate. They are two clubs tucked away far up north and are neither are silverware merchants nor beneficiaries of the capital press.
It is testament to its rancour then that the derby made the top 10 of Mad for it: From Blackpool to Barcelona, Football's Greatest Rivalries. Mixing it with the Clásicos, the Milanese, the Glaswegians et al. were a pair of clubs whose last major trophy either set of supporters enjoyed was the 1973 FA Cup.
But with every year the appreciation for the Tyne-Wear derby seems to receive greater appreciation. Although being shown live on Sky can be a backhanded compliment, it has emerged as a fixture you miss at your peril. Not necessarily because of the quality of football but because of the derby nature of it all.
So of the clash are six classic moments from yesteryear...
1989-90 LEAGUE/PLAY-OFF
Carnage on and off the pitch after John Burridge's penalty save...
NEWCASTLE 1-2 SUNDERLAND, 1999
On a rain-sodden August evening at St James's Park Ruud Gullit oversaw his final match as Newcastle manager. To make matters worse, Sunderland were his executioners.
Kieron Dyer gave the winless Geordies the lead but Niall Quinn equalised before Kevin Phillips scored a brilliantly loopy winner to make it four defeats in five for Newcastle.
On the bench that night was Alan Shearer hovering like the Grim Reaper after he was dropped by Gullit. Coincidentally, Bobby Robson - Gullit's successor - was sacked four years later after he too dropped Shearer for his final match at Aston Villa.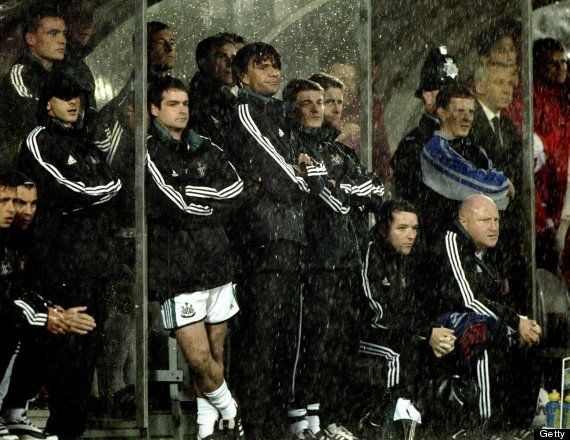 Shearer takes shelter as it pours on Gullit
Compensation for the lack of footage comes from Kevin Ball hitting his own crossbar from 30 yards out...
NIALL QUINN'S WINNER IN FRONT OF THE SIR JOHN HALL STAND, 2000
SUNDERLAND 2-1 NEWCASTLE, 2008
When Joe Kinnear was manager of the Toon, Sunderland beat Newcastle for the first time in eight years.
NEWCASTLE 5-1 SUNDERLAND
What is known in the north-east as 'The 5-1'.