Nuclear weapons would be "outlawed" in an independent Scotland under the SNP, Alex Salmond said, insisting Trident nuclear submarines would have to be removed from the Clyde.
Speaking from the SNP party conference in Perth, Salmond told BBC's Andrew Marr Show: "The UK government has two choices - they either relocate Trident to another part of the rest of the UK or alternatively they could use nuclear facilities in America or France."
His pledge to make nuclear weapons illegal comes after the party ended their opposition to joining nuclear defence alliance Nato, a policy held by the party for over three decades.
The decision to remain part of Nato saw cheers and boos at the annual party conference, according to Eddie Barnes, from the Scotsman. Salmond has been accused of shamelessly courting votes with the pro-Nato, anti-nuclear policy
The party has been urged to gain a guarantee from Nato that it would still be accepted into the nuclear alliance with its anti-nuclear policy, the newspaper reported.
The SNP has been accused of "moral hypocrisy" over the move, with Scottish Conservative MP Murdo Fraser tweeted: "Excellent news as SNP back the NATO nuclear alliance. Trident is here to stay."
Currently four Vanguard-class submarines are operational in Scottish waters, with one submarine always on patrol to provide a deterrent. With eight ballistic missiles and 40 thermonuclear warheads, the submarines comprise the most expensive and powerful system of defence in the British military.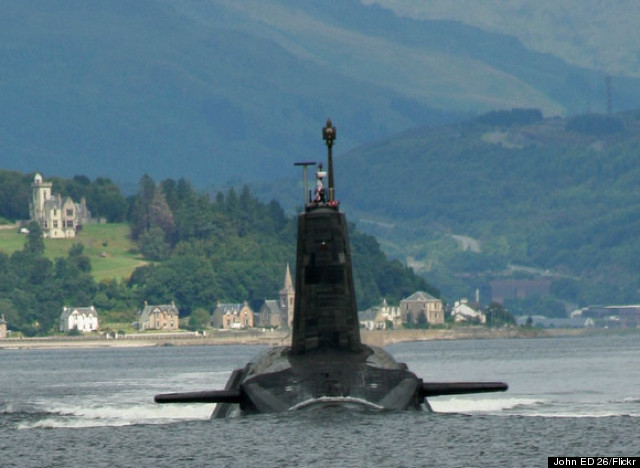 One submarine is always on patrol
Salmond was keen to stress his opposition towards nuclear weapons on Andrew Marr on Sunday, a position restated on the Sunday Politics Scotland programme.
He was pressed on whether nuclear submarines could perform exercises in Scottish waters by Sunday Politics presenter Isobel Fraser.
He said: "The issue about visiting warships, etc, no country ever confirms the existence of nuclear weapons on its warships - that is well known.
"This is an issue all non-nuclear countries have to face up to within Nato and out of Nato and we will do exactly the same thing."
He reiterated that the SNP's defence plans would cost almost £1bn a year less than under Westminster rule, with £230m of that coming from ending payments for the Trident nuclear weapons programme,
And he pledged over the next year Scottish Nationalists would "spell out what that independence dividend can do for services and for jobs".