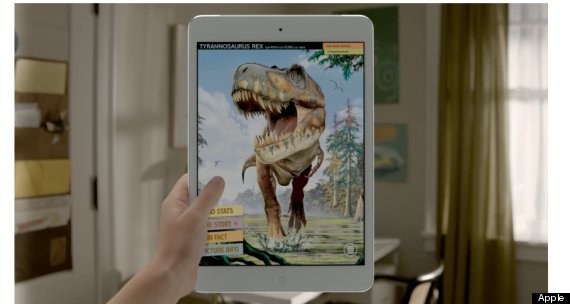 Apple has unveiled the iPad Mini, a smaller and cheaper version of its market-leading tablet computer.
The new iPad Mini features a 7.9-inch screen, and runs the same iOS 6 operating system as the larger model.
The iPad Mini is 7.2mm thick, and is as light as a "pad of paper" the company said - 23% thinner and 53% lighter than the 3rd generation iPad.
It has a 1,024 x 768-pixel screen and is available in white and black.
It features an A5 processor, a 10-hour battery, Apple's Lightning dock connector, a 5-megapixel camera and a Facetime HD camera.
It is explicitly intended to compete with the Google Nexus 7 and the Amazon Kindle Fire, both of which come with seven inch screens.
In 2010 Apple's late founder Steve Jobs described seven-inch tablets as "too small", but was said to have had a change of heart before he died in 2011.
READ MORE: Apple Introduces New iMacs, Macbooks
It will start at £269 in the UK for the 16GB version. The 32GB will cost £349, and the 64GB £429.
The WiFi and 4G iPad Mini will start at £369 for the 16GB, up to £449 for the 32GB and £529 for the 64GB.
The WiFI version will be available for pre-order on Friday, and released on November 2 around the world, including in the UK.
"We took the time to create a product that was a concentration of, but not a reduction of, the original product," said Apple SVP Phil Schiller.
Apple also announced an updated version of its 9.7-inch iPad, with an enhanced A6X processor, better WiFi performance and Apple's new Lightning connector. It will start at £399 and be available on the same day as the iPad Mini.
Apple Keynote October 2012
The announcement was made by Apple CEO Tim Cook at an event in San Jose, California.
Cook said the iPad Mini would reinforce Apple's dominance in the tablet market.
The news was broadcast live on Apple's website.
Apple has sold more than 100 million iPads since they were first released in 2010.
The device accounts for just over a quarter of Apple's current revenue, according to its third-quarter results.
Cook began the event by touting the huge sales of their recently launched iPhone 5, which despite much publicised problems with its new Maps service was a record seller around the world.
"We sold out the first weekend," said Cook. "Selling more than 5 million units… This was the most phones ever sold in an opening weekend."
Within a month 200 million devices had been sold running or upgraded to iOS 6, Cook said.
He added that there were now more than 700,000 iPhone and 275,000 iPad apps in the iOS App Store, and said customers had downloaded 35 billion apps.