John Terry may have ensured 23 October will be remembered as one of English football's most depressing days, but Manchester City can be forgiven for looking beyond the gloom and revelling in their seminal 6-1 victory at Manchester United.
Exactly 22 years and one month after The 5-1 City added The 6-1 to their chapter of greatest victories against their nemesis. Sandwiched between those victories was a 4-1 win and two 3-1 wins for the Blues, as well as the February 2008 2-1 success at Old Trafford, their first win at the Theatre of Dreams since Denis had done it in 1974. But the influence of The 6-1 was that it confirmed they were now better than United.
Forgotten in the aftermath of the Reds' embarrassment is that they were the superior side in the first half. Joe Hart was largely untroubled but City were pegged back incessantly. A pacy quartet of Nani, Ashley Young, Wayne Rooney and Danny Welbeck stretched the Blues' defence, but then thanks to one slip from Jonny Evans Mario Balotelli pounced and 'Why Always Me?' was born.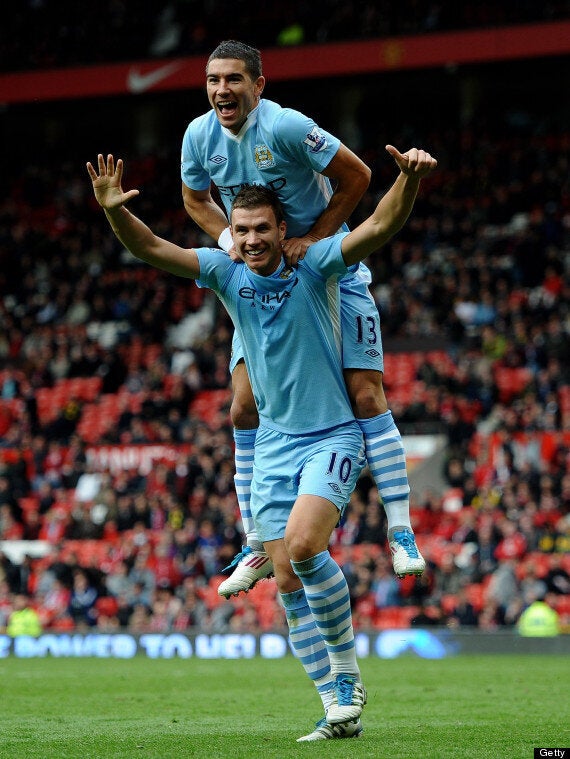 Evans' worst afternoon in a red shirt was compounded when he was red carded for clumsily hauling down Balotelli early in the second 45. The Italian doubled the lead on the hour mark before Sergio Agüero got in on the act nine minutes later.
With both sides apparently content with the 3-0 scoreline, United then scored via a superb strike from Darren Fletcher to offer some hope with 10 minutes remaining. By reducing the deficit, United had ironically done the worst thing possible.
Because the Butch and Sundance tactics didn't work. Going gung-ho, United ended up as bloody as the gunslingers (probably), as City mercilessly killed them off with three more goals to punish a vacant defence which had a crucial bearing on the teams' goal difference.
Related