Rio Ferdinand is one of a number of professional footballers in support of a breakaway black players' union after the weekend's Kick It Out boycott, according to reports.
Ferdinand refused to don a Kick It Out T-shirt during the warm-up ahead of Manchester United's fixture at home to Stoke City on Saturday, as he was joined by other black players in a show of solidarity against the group's impotence.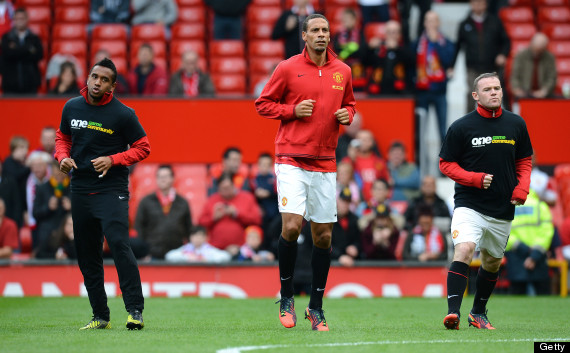 Ferdinand was the only United player who didn't wear a Kick It Out T-shirt
Now it is alleged Ferdinand and other black players will meet to thrash out the prospect of a Federation of Black Players, say the Daily Mail. Already in the United States, the Black Baseball Players Association exists.
Ferdinand was back on Twitter:
The issue of racism in football intensified last week when England Under-21 international Danny Rose was subjected to monkey chants after the European Championship qualifier in Serbia.
John Terry then finally apologised for calling Anton Ferdinand a "f****** black c***" days later, but Chelsea's "confidential" disciplining of him is only believed to be two weeks' wages - £440,000.
Clubs can only dock players a maximum fortnight's salary and if they wish to impose a more severe punishment must contact the Professional Footballers' Assocation. The PFA has not been contacted by Chelsea. Jason Roberts announced on Friday he would not wear a Kick It Out tee
Ferdinand's supposed actions appear to have angered Kick It Out chairman Lord Ouseley, as his group's ineffectiveness has come under the microscope.
Although Lord Ouseley appeared in court every day with the Ferdinand family during the Terry race trial, he has questioned how constructive Rio's stance is and suggested he is overreacting.
He said: "Would Rio tell England where to stick their shirt if picked or does he think the FA has done enough to tackle racism?
"Will he tell Manchester United where to stick their shirt and £150,000 a week or have they done enough to tackle racism?"
Chastised by manager Sir Alex Ferguson for "embarrassing" him at the weekend, Ferdinand was all smiles with his manager in training on Monday ahead of United's Champions League clash with Braga tonight.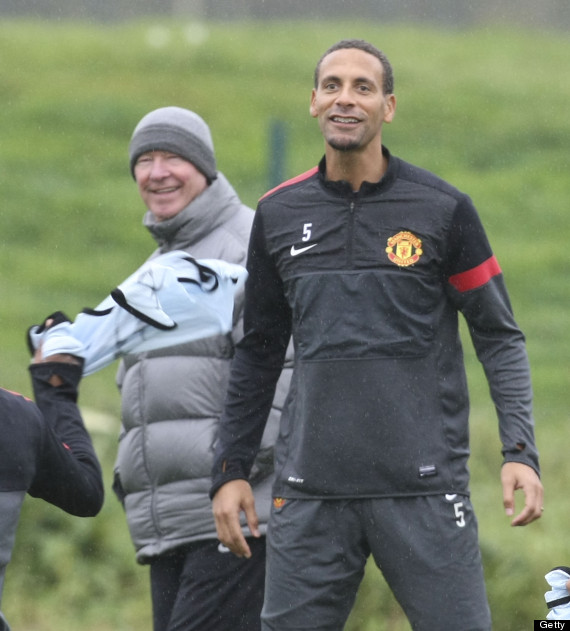 Ferguson and Ferdinand on Monday
He is unlikely to feature as Ferguson rests the 33-year-old ahead of the weekend match at Chelsea.