When David Braben and Ian Bell started work on the massively influential and beloved space combat simulator Elite in the early 1980s, video gaming awards were barely even a thing.
As soon as Elite was released in 1984, however, it was pretty obvious it would win a shedload.
That was partly because the game was utterly brilliant, with a mix of complex trading mechanics and action-packed combat, and an insanely rich universe of 256 planets and spaceships to explore.
But it was also because by then the Golden Joystick awards had been born.
The first Golden Joysticks were held in 1982, and this week are celebrating their 30 year anniversary by honouring 2012's best in gaming with 16 different awards.
Not only that, but they've also smashed their record for votes cast with more than four million, and will stream the lavish ceremony live on YouTube.
Braben remembers that things in 1984 were a little bit less ambitious.
There were just seven Golden Joystick categories, for one thing. And the winners apparently rarely even got to hold their trophy.
"I never even saw the award," Braben told the Huffington Post UK in an email interview. And no, he doesn't have it now.
"I was told about it, but in those days the publishers tended to be very guarded about such things, and Firebird put it in a cabinet, somewhere."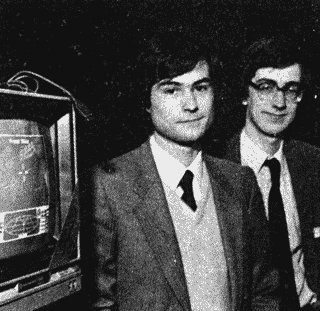 Left: David Braben and Ian Bell, in 1984
Still, while the Golden Joysticks were less of a blockbuster affair than they are now it was still a boost at a time when everything about the industry was in a state of sudden, but fragile, growth.
"It was great. Ian Bell and I were very lucky at winning so many awards as we did," he said.
But did the award help his career in any practical way?
"The release and success of "Elite" boosted our careers hugely. To be honest it is difficult to consider the effect of any one award on that success, but I am sure it was there."
The Golden Joysticks are voted for by the public - something which judging by the mountain of votes received this year is taken very seriously by gamers.
"They are different. Being judged by your peers is very important, but ultimately the public have to be the most important," Braben said.
Recently the issue of how much power games reviewers and journalists have in determining a title's success has been a hot topic of discussion. Where does Braben stand?
"Reviewers are very influential. Word-of-mouth is a key way gamers hear about games, and reviewers essentially kick off that process. If a reviewer criticises a game heavily, then that negative reaction spreads in much the same way, harming sales significantly."
Has that grown or lessened over time, particularly since the growth of online media?
"It has probably lessened a little, mainly because of the proliferation of reviewers and places you can see reviews. It means that one review that is incorrectly massively negative or positive stands out as unreasonably biased a lot more, so it actually happens a lot less." Above: David Braben with the Raspberry Pi, for which he is a foundation trustee
For an outsider, one of the strangest elements of an awards show like the Golden Joysticks is seeing the parade of often ashen-faced games developers trooping up on stage to collect their gongs. It's a rare chance to see the minds behind a big franchise title -- and have a glimpse into how they work.
Braben says many gamers probably have little idea of the true scale of modern games development.
"They probably have a vague inkling, but no, I suspect they do not realise the complexity or sizes of teams that are often employed."
So why do games companies make bad games? Is it lack of thought, talent, resources, or just bad luck?
"No one sets out to make a bad game," he said.
"Sometimes what seems to be a good idea on paper doesn't work well as a game, and the key thing to do is to find that out as soon as possible, and then either find a way to fix it, or to stop development there and then. Stopping is a brave thing to do, and some people are not brave but remain in denial."
What is clear is that the Golden Joysticks and other gaming awards, like those run by the BAFTAs and GameCity, are just getting bigger. What chance that one day gaming awards will be covered with the same excitement as music and movie awards? Does Braben see that happening?
"Yes," he said. "The average age of gamers is rapidly approaching that of the population, and a great many people now call themselves gamers."
For now Braben is still working on new games - his company Frontier's mobile platformers Lost Winds and Lost Winds 2 have seen "millions" of downloads since its release, he said - and yes, has won a bunch of awards.
In fact, Lost Winds 2 is up for a Golden Joystick this year.
Let's hope if he wins they let him keep it this time.