A judo star who attended a Buckingham Palace party for Olympic and Paralympic participants was so flushed with pride and wonder she decided to tweet a photograph of her Maj's loo.
Gemma Gibbons attended the bash to mark the achievements of those who took part in the London games.
The event was attended by the Queen, Duke of Edinburgh, Duchess of Cambridge, Prime Minister David Cameron and London 2012 chief Lord Coe.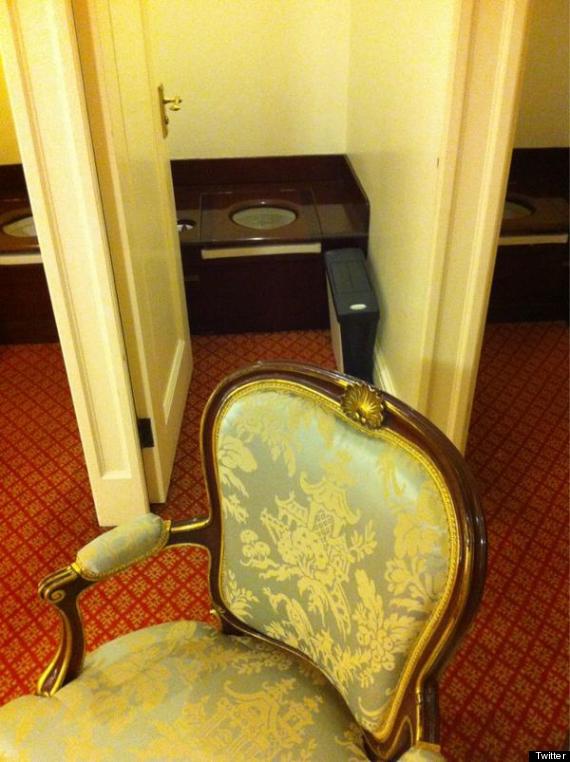 Gemma Gibbons shared this snap of the royal toilet with her 29,000 followers
The silver medallist, who had been asked not to use her mobile phone during the reception, tried to discreetly send a text to a friend to crow about meeting the Queen.
Eagle-eyed staff immediately pounced and asked her to put her phone away, sending Gibbons scuttling to the toilets.
But the splendour of the facilities impressed Gibbons so much she whipped out her phone once more and snapped the other royal throne.
Scroll down for a gallery of weird toilets
The 25-year-old described the thunderbox loo as "unbelievable" and that she had "never seen anything so posh".
She told the Daily Mail: "I tweeted it without thinking really and I hope that I'm not in trouble. It was such a lovely event that I wouldn't want to end up in the tower."
Gibbons is currently a student at the University of East London studying a Masters in Exercise Science and Health.
SEE ALSO: Toilet Trouble At The Boom Boom Room Club At Manhattan's Standard Hotel (PICTURES)