Imagine a music festival, filled with beautiful, young people. They are happy, wearing sunglasses and drinking cheap Mexican beer. Now imagine you're there too, amid the warm, mountainous landscape of Colorado. It's just getting on to sunset. Your favourite band is on next. The soundcheck is over, and you smile slightly as you and your friends revel in the sheer exhilaration of being present, and being alive.
Now image if that rare scene were suddenly interrupted by the scorching roar of an endless parade of cars, planes and engine-obsessed dorks.
For this is Forza Horizon (XBox 360, PC, PS3, out 26 October), a driving game set inexplicably at a music festival at the centre of a detailed, majestic open world where you are forced to participate in literally hundreds of straightforward motor races, until you just can't take it any more.
Forza Horizon features many of the distinguishing features of publisher Microsoft's other Forza Motorsports games - an extensive range of realistically modelled cars, excellent graphics, very physical, er, physics and action-packed racing. But it also takes the license to open things up. It's set in a larger, more porous world, and has a bigger focus on extreme stunts, a greater variety of terrain and make-your-own-fun exploration.
It takes place ostensibly at the Horizon festival, but really you'll spend most of your time driving around the massive game world of Colorado, which is excellently rendered and thoughtfully crafted. It features dozens of types of landscapes, from fields and deserts to mountain tracks, small towns and motorways, and while it doesn't feel 'alive' like some open world games, it feels much more organic and solid too - and almost always looks wonderful.
AI traffic is present and correct for you to zip entertainingly around, and as you do stunts, drift around corners and generally act in a recklessly dangerous way, you'll earn Cred points to move up the rankings and unlock cooler races and cars.
Meanwhile you can challenge drivers on-the-fly by simply driving behind them when you're in between challenges, and you can also compete to get High Scores through speed traps and other mini-games. Other elements from Forza 4 - the Rivals sub-game, extensive vehicle upgrades and a variety of multiplayer modes - are also available.
The spine of the game, however, is the quest to earn festival wristbands through a ladder of core races. As you work your way up you'll face off against a diverse cast of fictional motorsport douchebags, and even end up racing planes and other unlikely opponents.
And that's sort of the problem: it's hard to be bothered. In Forza Horizon, the landscape is much more beautiful and engaging than the actual racing.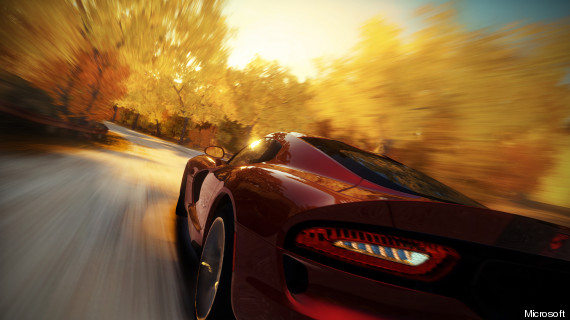 Other reviews have gushed about the detail and depth of Forza's handling, and the subtlety of its driving mechanics. For students of the genre, that may well be true. But for us, the driving just lacked something. Personality? Warmth? Pick your adjective, but it feels hollow. Almost every type of driving game is represented - off road, sports cars, muscle cars and so on - but it's hard to get a hold on what Forza Horizon is actually best at. Plus the difficulty curve is skewed: the races were at first far too easy and later way too difficult.
But most of all, it's never particularly clear why any of this is all that fun.
The circuits often feel too generic to make the racing as crazy and madcap as it should be, while the story lacks charisma.
And that's a real shame, because as many, many other open world driving games have proven - from the under-rated Driver: San Francisco to the upcoming Need For Speed: Most Wanted - it's not enough to just lay down the roads and draw out some tracks. An open world game actually requires a lot of work and ideas to get right. It has to be deep, as well as beautiful. In Forza Horizon the stuff that's really fun - driving around, making trouble, looking for one-off races and building your own sense of a character amid the wreckage - just isn't interesting enough.
Forza Horizon is a brash, aggressive take on the Forza brand, and with simple controls and minimal menus it's easy to pick up and play. A lot of people will love it - and for Forza fans it's a brave attempt to flex its muscles while keeping the core mechanics intact.
But like the TV coverage of the music events its setting emulates, it loses out by focusing on the main stage. The real fun is being had backstage, or in the tents, or deep in pools of mud. By not letting itself get too dirty, Forza Horizon misses the point of being at the festival in the first place.