Silvio Berlusconi has threatened to topple the Italian government a day after the former prime minister was given a four-year jail sentence for tax fraud.
The 76-year-old's PDL party, the largest in the parliament, currently backs the technocratic government led by Mario Monti, however on the back of his sentence Silvio has threatened to withdraw his party's support, blaming the cabinet for the country's "spiral of recession".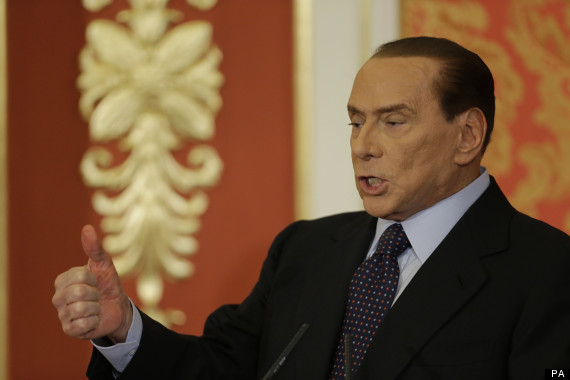 Berlusconi has threatened Mario Monti's government
Berlusconi added: "We have to recognise the fact that the initiative of this government is a continuation of a spiral of recession for our economy.
"Together with my collaborators we will decide in the next few days whether it is better to immediately withdraw our confidence in this government or keep it, given the elections that are scheduled."
Should the PDL withdraw support, the move could lead to the end of the government and early elections.
Berlusconi, who was forced out of government in 2011, is expected to appeal his jail sentence after he was found guilty of manipulating distribution rights for his media company to avoid tax.
However, the former prime minister is unlikely to see the inside of a jail as under an Italian law, passed by Berlusconi, no one older than 70 can be sent to prison.
The politician's threat came on the same day as thousands of demonstrators marched through Rome in protest at the harsh austerity measures implemented by Monti's administration.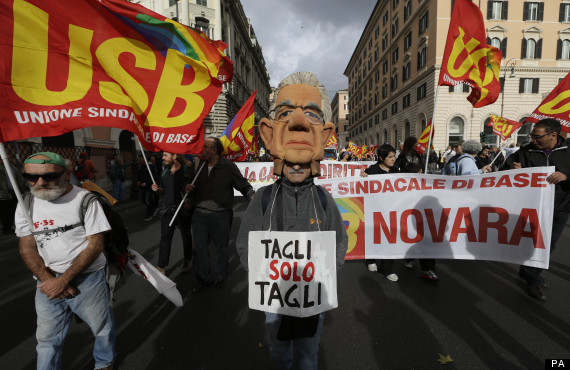 Protesters march during a demonstration against Italian Premier Mario Monti's austerity measures
On Friday, it was announced that along with a jail sentence, Berlusconi would be barred from holding political office for three years.
Italian senator Paolo Guzzanti told the BBC on Friday that the court's decision would "put him out of any political game" for good. "Nobody is surprised, he has so many trials and judicial problems," he said.
Earlier this week he announced Berlusconi would not seek to return as prime minister in the upcoming Italian elections, however by threatening Monti's government it seems that the former PM is looking to throw his considerable political weight around the parliament one last time.
Having served three terms in office Berlusconi was Italy's longest serving post-war prime minister.
The billionaire media-mogul was first elected as prime minister in 1994 having founded his own political party, Forza Italia. He went on to secure two further victories in 2001 and 2008.
Berlusconi lost power to left-wing Romano Prodi in 1996 and 2006 but bounced back both times.