A video of burka-clad women firing machine guns has emerged online.
The 46-second clip entitled "Taliban recruits for the burkha brigade" features a line of women loading and firing weapons including pistols, machine guns, rocket-propelled grenades, assault rifles and sniper rifles.
Blurb posted with the video claims the women are being trained to fight by terrorists in the volatile Russian Republic of Chechnya.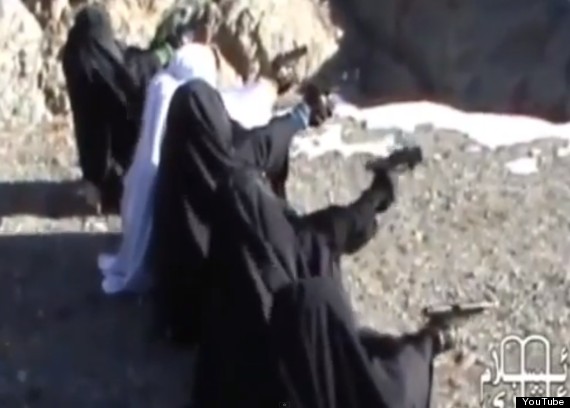 Gun-totin': Veiled women fire weapons in a desert location
It adds: "It is believed the all-female group of fighters was recruited by a group linked to Al-Qaeda that has bases in Pakistan and Afghanistan."
According to the Herald Sun, experts say the fighters are being recruited because women arouse less suspicion than men at checkpoints and can travel largely undetected.
Female suicide bombers have been used in various Taliban attacks, with the first instance occurring in June last year, AP reported.
The woman was part of a husband-and-wife team which carried out the attack on a police station in northwestern Pakistan killing ten people.
A Taliban spokesman told the news agency via telephone it was the first time the militant group had used a female, although Pakistani officials say an attack at at a World Food Program food distribution centre, killing 45 people, occurred in 2010.
In June last year an eight-year-old girl was used as a bomb mule to attack a police checkpost in central Afghanistan, the Guardian reported.