A brothel has been found operating on the premises of one of Moscow's oldest monasteries.
It was located in a building rented by the Sretensky monastery in the heart of the city, The Moscow News said.
Two women were arrested on suspicion of prostitution, following the raid on Monday, Moscow Police reported via their website.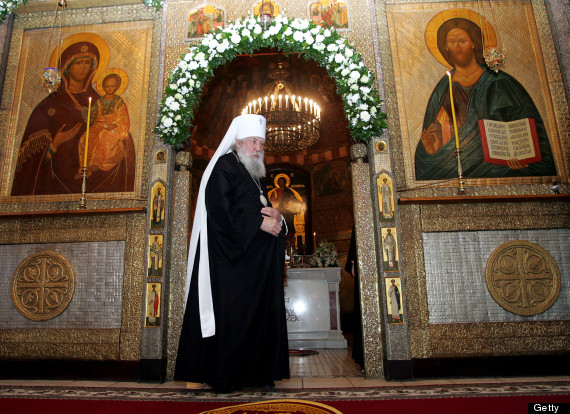 The Sretensky monastery was built in 1395. Pictured is Metropolitan Laurus, the New York-based leader of the Russian Orthodox Church Outside of Russia
Sexual services on the premises were on offer from 1,750 roubles (£35) an hour, news agency Interfax said.
The vicar Archimandrite Tikhon (Shevkunov) is believed to be President Vladimir Putin's spiritual advisor, The Telegraph reveals.
Patriarch Kirill is the monastery's superior - and also an avid backer of Putin, calling his first two Presidential terms a "miracle" from God.
Kirill, who blasted the Pussy Riot protest as "blasphemous", came under fire in April after insisting he had never worn a $30,000 Breguet watch he received as a gift and suggesting pictures of him wearing the timepiece had been doctored.
A spokesman for the monastery denied it had any connection with the brothel.
He told Russian website Life News: "Some time ago, we rented premises for our seminary. The bordello was only found then, when we started to check which rooms had become temporarily ours, and which hadn't.
"The establishment had been there for a long time it belongs to someone and has absolutely no connection to us."
The monastery was built in 1395.