In a final insult to an already battered and bruised US East Coast population, Superstorm Sandy has caused coffins to rise up from the ground.
The bizarre and undignified sight came about from the pressure of water that built up in the ground, pushing the caskets to the surface.
In a cemetery in Crisfield, Maryland, a casket was pictured having broken through a heavy slab covering the grave.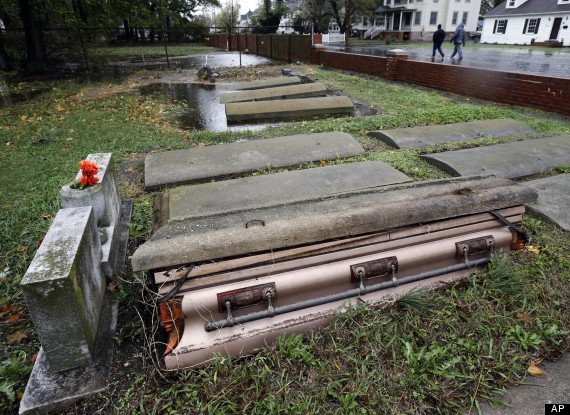 Sad sight: Surging ground water pushed coffins up through their protective covers
President Obama described the effects of the storm as "heart-breaking".
The death toll in North America now stands at 50, with damage caused by the 1,000-mile wide storm estimated at a staggering $50billion (£31billion).
Around eight million people are without power and parts of the East Coast have been left looking like scenes from a disaster movie.
In New York mobile phone and wi-fi masts went down, a building had its façade ripped off and some subway stations were flooded with water.
SEE ALSO:
In other areas boats were pushed onto railway tracks and some homes completely destroyed.
In a press conference held at the Red Cross, Obama urged people to support the organisation, stating: "Red Cross knows what they're doing... they will make sure we get the resources to those families as swiftly as possible.
"This is something heartbreaking for the entire nation and we feel profoundly for families who will be going through some very tough times in the next few days, and even the next few weeks and months."
Obama is due to travel to New Jersey on Wednesday with Governor Christie to offer support to communities recovering from the storm and thank emergency services.
Republican Christie, normally a fierce critic of Obama, has praised the president for being "outstanding" in the wake of the disaster. Obama has suspended his election campaign following the superstorm.