It looks like things are getting serious for 'X Factor' hopefuls Ella Henderson and George Shelley - they've taken their blossoming romance public with two outings together in the space of a week.
The loved-up pair were snapped cosying up together at last night's Cosmopolitan Ultimate Women Of the Year Awards and were also by each other's side at the Pride Of Britain Awards earlier this week.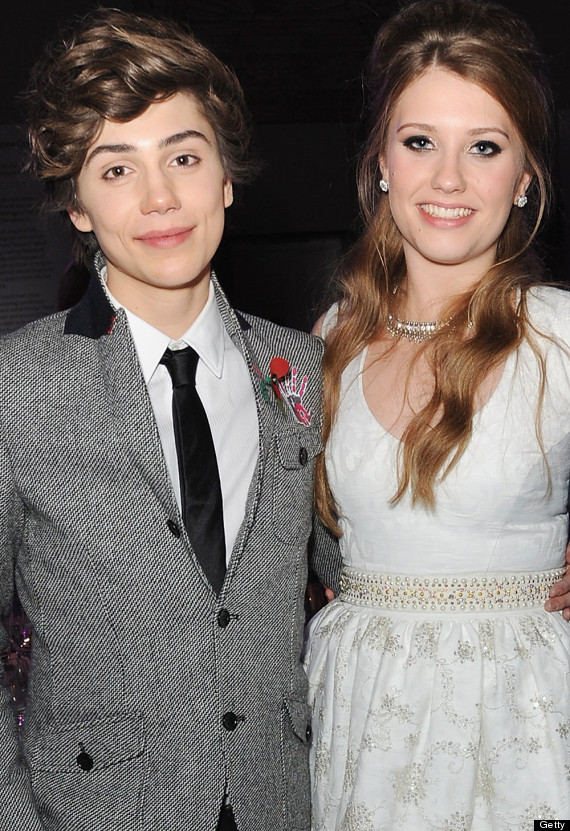 Ella and her fella, fella, fella eh eh eh eh eh: The 'X Factor' lovebirds cosy up at The Cosmo Ultimate Women Awards
According to The Mirror, 16-year-old Ella and 19-year-old Union J cutie George moved away from their 'X Factor' pals for some alone time where they were spotted getting all touchy feely as they whispered sweet (and innocent) nothings into each other's ears.
"George and Ella have been trying to take things slowly because they don't want to be seen as a typical X Factor romance," a source told the paper.
"They really connected when they first met but they wanted to get to know each other before taking the relationship up a notch.
"Now, after spending such an emotional evening together, they are taking things more seriously."
Aaawww, young love.
Meanwhile, also at the Pride Of Britain Awards was Rylan Clark who managed to mistake Jason Donovan for another musical theatre star.
Rylan Clark: Shoulda gone to Specsavers
Speaking on his Heart FM radio show, the former 'Neighbours' star said: "A tall, scary character came leaping towards me... hairspray, mascara - yes, it was Rylan. He recognised me and said, 'Oh no, it's Darren Day!'
"Darren Day! I couldn't believe it. Last week, my daughter said I look like Daniel Craig. Not quite as aspirational this week, but I'll survive. Will Rylan though?"
He'll be getting our vote.
> IN PICS: COSMO ULTIMATE WOMEN OF THE YEAR AWARDS
Cosmopolitan Ultimate Woman Awards 2012