Arsenal manager Arsène Wenger has criticised Chelsea for publicly alleging referee Mark Clattenburg used "inappropriate language" towards John Obi Mikel, suggesting they should have "internally" filed the complaint.
Clattenburg, 37, has been accused of calling Mikel a 'monkey' during the Blues' 3-2 Premier League loss to Manchester United on Sunday in a match which saw both Branislav Ivanović and Fernando Torres sent off for the Stamford Bridge side.
Mikel confronted Clattenburg at the end of the match and, having given an account of what ostensibly occurred to senior figures at Chelsea, a statement was announced at 8pm - around two hours after the final whistle had been blown - reporting Clattenburg.
Initially Chelsea said Clattenburg had insulted two players but the club have now dropped their suggestion Juan Mata had been called a 'Spanish twa*' by the County Durham official.
And Wenger suggested Chelsea's rapid response may impede them having backtracked on the Mata issue.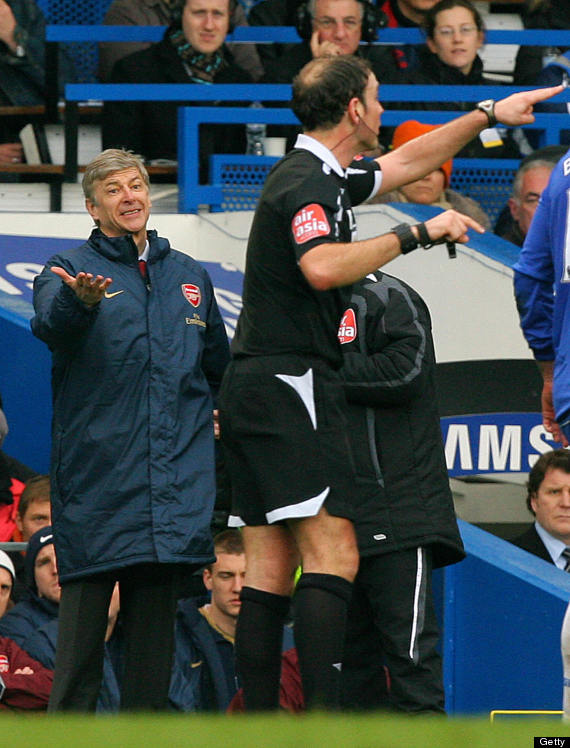 Wenger gestures towards Clattenburg at Stamford Bridge in 2008
"My opinion is just that I prefer, when I didn't behave well, that I have an explanation with the referee at the end of the game or on another day, [rather] than going public with little proof," Wenger said at his Thursday press conference. "I'm not a great believer in making these stories public.
"I have not always behaved very well, they are very heated situations but I am a deep supporter of doing that internally. One of the great things in sport, especially in England, is that when the battle is on, you can sort out the problems you had internally. If it becomes a sport to make the lawyers rich, I am not a fan of it.
"One of the great things in sport as well is tolerance, forgiveness and explanation internally and I think it should stay like that. It can happen that a referee doesn't behave well, I do not say they are angels, but it is always better to sort it out in the room."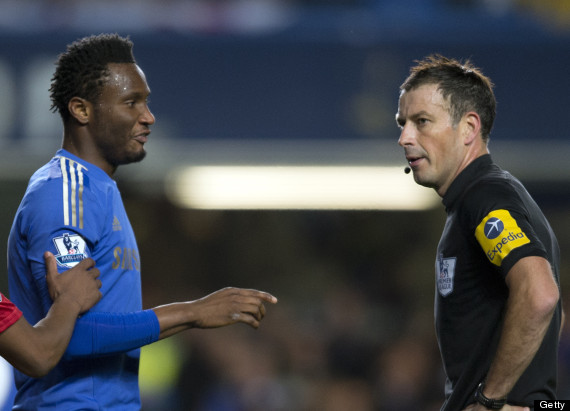 Clattenburg stands accused of racially abusing Mikel
The Football Association has already opened an investigation and the Metropolitan Police are probing Clattenburg after the Society for Black Lawyers contacted them.
Wenger is the second manager to express sympathy for Clattenburg after Leeds United manager Neil Warnock expressed his "disgust" at Chelsea's behaviour.
Chelsea have today revealed they are investigating an apparent monkey gesture made by one fan towards Manchester United striker Danny Welbeck in Wednesday night's League Cup match.