Comedian Freddie Starr has been released on police bail after being questioned by detectives investigating allegations of sexual abuse surrounding Jimmy Savile.
A man named by sources as Starr, 69, was arrested in Warwickshire yesterday on suspicion of sexual offences by officers working on Operation Yewtree before being released during the early hours of this morning. Comedian Freddie Starr has reportedly been arrested
A Metropolitan Police spokesman said: "Officers working on Operation Yewtree yesterday arrested a man in his 60s in connection with the investigation.
"The man, from Warwickshire, was arrested at approximately 5.45pm on suspicion of sexual offences, and was taken into custody. He has since been bailed."
A force spokesman said the suspect was released on bail between 1am and 1.30am this morning. The date when he must represent himself to officers is yet to be released by Scotland Yard.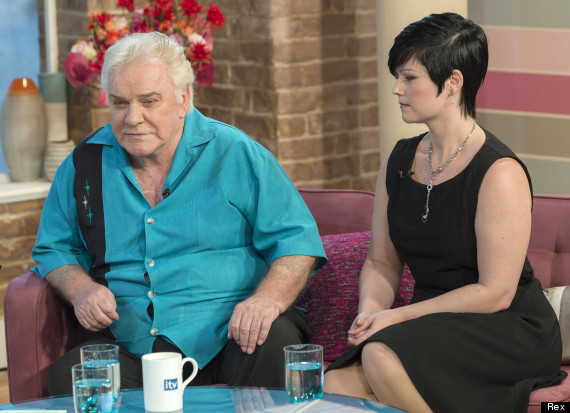 Starr appeared alongside his fiancée Sophie Lea on the ITV's This Morning
The police spokesman said the arrest falls under the strand of the investigation termed "Savile and others".
Starr been publicly implicated in the Savile scandal over the past month but has strongly denied the accusations.
Last month he branded Savile "despicable" and "disgusting", and urged police to interview him so he could clear his name.
His arrest follows that of Gary Glitter on Sunday by officers working on Operation Yewtree.
The former pop star was questioned at a central London police station after being detained at his home in the capital.
Glitter, whose real name is Paul Gadd, was photographed leaving Charing Cross police station later that day but Scotland Yard did not comment on his release.
Savile, who died last year at the age of 84, is now believed to have been one of the UK's most prolific abusers, with about 300 possible victims.
Scotland Yard is leading a national investigation into the television and radio star's activities.
Detectives are following 400 lines of inquiry while the BBC has launched an inquiry into the culture and practices at the corporation in the era of Savile's alleged sexual abuse.
It is also looking at the decision-making process which saw a Newsnight investigation into Savile's activities shelved. The review, led by Nick Pollard, former head of Sky News, will report back on its findings later this month.
Savile's estate, reportedly worth £4.3 million, has been frozen in response to the mounting allegations.