The Chelsea fan accused of making a racist monkey gesture towards Manchester United striker Danny Welbeck has been named as Gavin Kirkham.
Chelsea and the police are both investigating an incident during the Blues' 5-4 Capital One Cup win over United on Wednesday night when a supporter - identified as Kirkham - was pictured mimicking a monkey at Welbeck.
Kirkham, from Letchworth n Hertfordshire, was stood in the Matthew Harding Stand when he was snapped gesticulating in the front row.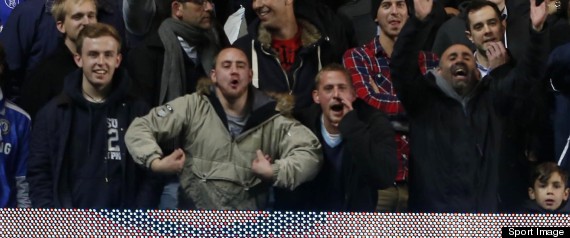 Kirkham in the Matthew Harding Stand
The Chelsea fan lists his hobbies on Facebook as Chelsea, playing football and drinking, while his MySpace page shows him wearing a Borat mankini, dressed up in female clothing and clutching a pint of bitter as a toddler.
Kirkham was yesterday door-stepped by The Sun and told the paper he had not been contacted by police and made no further comment other than he is "busy trying to earn a living".