"They say he's an intelligent man, right? Speaks five languages. I've got a 15-year-old boy from the Ivory Coast who speaks five languages!" Alex Ferguson didn't exactly greet Arsène Wenger warmly when the Frenchman took charge at Arsenal in September 1996. The temperature was set below lukewarm and throughout the next decade it plummeted to sub-zero.
Between 1998 and 2004 Arsenal and United vied for every title. United won four of them - two at a canter, two thanks to their nerve - while two of the Gunners' title winning seasons were married with an FA Cup and in 2004 they won the league without losing a game.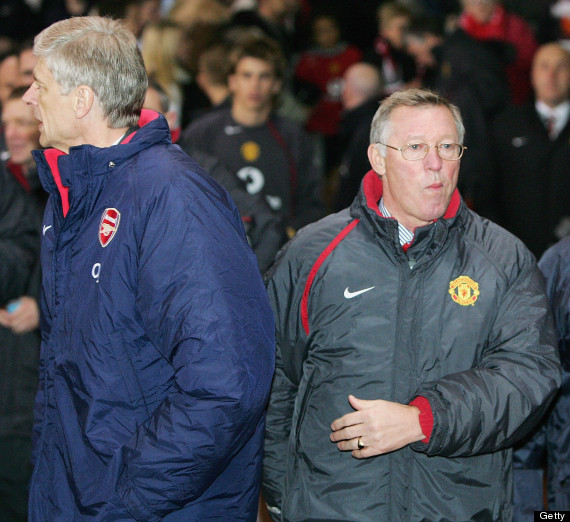 Barely a glance in 2004
Things haven't been the same since 2005, though. It is no coincidence Patrick Vieira's last kick of a ball in an Arsenal shirt secured their last trophy. Six months after they beat United in the FA Cup final, Roy Keane left Old Trafford quietly but acrimoniously. Just over a year on from the 'Battle of the Buffet' and in the same year of that tunnel row, the rivalry disappeared.
Whereas in 2004 Wenger offered to fight Ferguson now he would offer him a glass of wine. Ferguson used to complain Wenger was the only manager who didn't share a drink with him after the match, but now Arsenal aren't a threat to United the hostility is non-existent.
But there's no reason why we shouldn't recall the red cards, the transfers and the goals in the Ferguson and Wenger era...
Manchester United And Arsenal In The Ferguson-Wenger Years